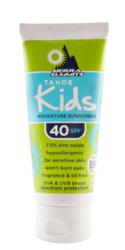 Naples, Florida (PRWEB) July 18, 2012
Sierra Summits knows children are resistant to making sunscreen part of a daily regimen and skin protection education is a part of Sierra's mission. Child Care of Southwest Florida, Inc. is the region's leading child care resource. Established in 1967, CCSWFL is led by a volunteer board of directors. CCSWFL currently has over 110 employees in Southwest Florida, serving more than 600 children annually at 6 child care centers in Ft. Meyers area (Lee county) and Hendry county.
"Children should be taught from an early age to be aware of the problems associated with sun exposure and the need to use sun protection. Parents can teach their children early sun protection techniques that will help prevent skin cancer throughout their lives", says Jennifer Rice, Founder of Sierra Summits. "We believe the rise in melanoma is due to sun exposure and sunburns in childhood, increased sun exposure over time and the use of tanning beds." "Tahoe Kids sunscreen should be applied every morning, 30 minutes before leaving the house. Keep it in the bathroom where children brush their teeth, and eventually it will become routine."
Sierra's Tahoe Kids is a 4 Season High UVA/UVB broad-spectrum protection lotion great for all ages 1 year and older. Oil free and Fragrance free. Great for all skin types, Hypoallergenic, and won't burn the eyes. Melanoma International Foundation Seal of Approval.
About Sierra Summits
Jennifer Rice, Master of Physician Assistant Science (MPAS PA-C) is a national board certified practicing physician assistant. PA's in Dermatology diagnose, treat and prescribe medications for general and cosmetic uses. PA's perform skin cancer screenings, surgical and cosmetic procedures autonomously under the guidance of a supervising Dermatologist.
Sierra Summits Skin Products was born in 2006 while Rice was working in Reno and Lake Tahoe, Nevada. It was patient feedback and concerns about the mainstream sunscreen brands, which prompted Rice to create a high quality, dermatology grade sunscreen to market at an affordable price. The brand "Sierra Summits" was an idea to capture the lifestyle of the Sierras', an adventure playground for hikers, skiers, cyclists, and travelers.