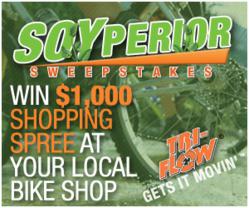 We really wanted to raise awareness of our new Superior Soy Products and we thought what better way than giving bike enthusiasts a chance to not only win some cool stuff but also support their local bike shops
Cleveland, Ohio (PRWEB) July 24, 2012
As the leader in the development of superior lubricants & cleaners for today's bike enthusiast, Tri-Flow Lubricants is introducing the new Superior Soy™ Foaming Cleaner. Like all the Tri-Flow Superior Soy Products, the new Superior Soy Foaming Cleaner delivers advanced performance combining science and nature. Formulated with renewable ingredients which are friendly to both the user and the environment, this cleaner/degreaser is a unique soy-based solvent blend with foaming action that allows it to cling to parts and penetrate deep to cut through grease, grime and dirt so they can be easily wiped it away.
And to introduce the new Superior Soy Products, Tri-Flow is proud to announce the launch of the Tri-Flow Soyperior Sweepstakes which gives Bike Enthusiasts throughout the U.S. a chance to win one of two $1,000 Shopping Sprees at their Local Bike Shop. There are a number of ways to enter the Tri-Flow Soyperior Sweepstakes:

As part of their entry, participants will need to provide the name & phone number of the bike shop where they'd want to have their shopping spree if selected as a winner.
"We really wanted to raise awareness of our new Superior Soy Products and we thought, what better way than giving bike enthusiasts a chance to not only win some cool stuff but also support their local bike shops," said Brian Calmer, Product Manager at Tri-Flow Lubricants.
The Tri-Flow Soyperior Sweepstakes runs through September 30, 2012.
The new Tri-Flow Superior Soy Lubricants & Foaming Cleaner and the entire Tri-Flow Superior Lubricant offering is available through your local authorized distributor and online at TriFlowLubricants.com.