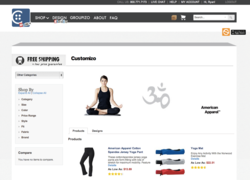 Chicago, IL (PRWEB) July 31, 2012
Responding to customer feeback from social media and traditional channels, Customizo.com has diversified its product offerings and now features an expanded selection of customizable yoga apparel and accessories. Pants, tops, and mats from a variety of different brands make their debut, ready for novices and seasoned yogis alike.
Summer provides a seasonal opportunity to practice outside, and Customizo offers a hip, trendy design solution for achieving the height of yogi style before ohming in the outdoors. The online Design Studio offers an ample selection of yoga inspired, fully customizable templates ready for application to apparel from brands like Sobyu, American Apparel, and Bella.
Users may also upload their own artwork or logos to the Customizo Design Studio, offering a branding solution to studios and clubs seeking to create signature mats and towels for use during classes and retreats. With the ability to design multiple products featuring the same logo in the same order, it's simple to create complementary products such as Klean Kanteen and Nalgene water bottles, hoodies, and tees to complete the branding package.
About Customizo and Izo Brands: With Customizo, Groupizo and Snapizo, Izo is knitting the framework for the future of e-commerce with a multi-faceted set of innovative product customization and design tools, a unique group collaboration interface, and mobile media distribution applications. Izo's mission is to be the most customer-centric, creative, and innovative company in the custom apparel and promotional products industries.