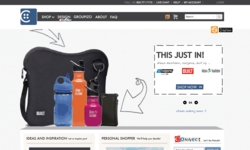 Chicago, IL (PRWEB) July 24, 2012
Izo Brands announces the addition of new top brands to its apparel and product customization website, Customizo.com. Izo expands its offering of customizable promotional merchandise with new drinkware from lines such as Built NY, Nalgene, and Klean Kanteen, in addition to cost conscious tumblers, mugs, and koozies.
The wide variety of Nalgene bottles encompasses options such as the Tritan N-Gen, Grip'N Gulp, and the brand's most popular classic model, the 32 oz Tritan wide-mouth. Custom water bottles are perfect for camps, sports teams, and promotional use at trade shows and other publicity functions. Customizable Klean Kanteen products include classic, wide mouth, and insulated versions of their signature stainless canisters. Ranging in size from small, brightly colored 12 oz editions - perfect for corporate gifts - to 40 oz behemoths for serious outdoor enthusiasts, Klean Kanteens fit every occasion.
Built NY enters the arena with the BYO by Built One-Bottle Bag. Customized bottle sleeves increase a brand's visibility as the high quality neoprene (complete with company logo) travels to events and parties, keeping bottles safe and cool for years. Other Built NY products include laptop cases, smartphone cases, and insulated lunch coolers.
A promotional item with similar drinkability is the Collapsible Can Koozie, also a new addition to Customizo.com. Finally, follow up with travel mugs or double wall tumblers complete with lid and straw to offer a total customized drinkware package for all occasions. Promote your cause and gain brand exposure with every sip!
About Customizo and Izo Brands: Izo is knitting the framework for the future of e-commerce with a multi-faceted set of innovative product customization and design tools, a unique group collaboration interface, and mobile media distribution applications. Izo's mission is to be the most customer-centric, creative, and innovative company in the custom apparel and promotional products industries.