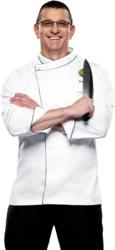 Over 30 chefs have volunteered their time and skills to man tasting stations and create Flavors of the World culinary masterpieces in support of Veggie U
Milan, OH (PRWEB) July 17, 2012
Tickets are nearly sold out for the 10th Annual Veggie U Food and Wine Celebration, at The Culinary Vegetable Institute, on July 21st, 2012.
This annual fundraiser benefits Veggie U, a non-profit children's education program that teaches the importance of nutrition and sustainable agriculture by providing interactive lesson plans with a classroom garden kit to elementary schools and special needs students. Over 2,600 Veggie U kits have been placed in 29 states, with over 400 kits scheduled for classrooms this fall.
Over in the Demonstration Tent, Demo: Impossible with Robert Irvine, Amanda Freitag and Madison Cowan! Chef Amanda and Chef Madison will each pick one or two teammates from the audience to produce a dish using surprise ingredients. Chef Robert will emcee the cooking portion and may throw a few curveballs at the contestants. In the end, Chef Robert, Farmer Lee Jones of The Chef's Garden and one guest judge will select the best dish. Other cooking demonstrations include headliners Chef Johnny Iuzzini and Chef Claire Robinson in a "five ingredient challenge".
The celebrity chefs stationed in the VIP tent, Chefs Lee Anne Wong, Greg Grossman and Jonathon Sawyer, have been challenged to create all vegetarian fare. In addition, over 30 chefs have volunteered their time and skills to man tasting stations and create Flavors of the World culinary masterpieces in support of Veggie U. Wine tastings and classes, an expert vegetable carver, live and silent auctions, and more attractions will keep things lively—and tasty.
Gourmet food trucks will also be on hand, an exciting trend happening around the country. Top chefs put their award winning restaurant menus "on the road" in city streets, parks and at catered events. Chef Rocco Whalen, restaurateur and executive chef at Fahrenheit in Cleveland's Tremont neighborhood, who was also recently showcased on Food Network's Fat Chef series, will bring his "Short Rib 1" Fahrenheit Truck to the Food and Wine event. Gourmet food-truck operator Chef Chris Hodgson, who achieved nationwide recognition finishing second on Food Network's The Great Food Truck Race l brings his famous "Hodge Podge" truck which was showcased on the series. Hodgson recently opened Hodge's in downtown Cleveland with restaurateur Scott Kuhn.
Grand Tasting tickets for the Celebration are $150 each (please call for group ticket rates). VIP Party tickets are $300 each, and include preferred parking and early admittance, mingling with the celebrity chefs, private cuisine offerings, and exclusive silent and live auction items. To purchase tickets and learn more about the event, visit http://www.VeggieUFoodandWine.com or call 419.499.7500.
###