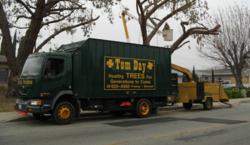 To celebrate our new website, we are offering $25 off any service we provide
Claremont, CA (PRWEB) July 19, 2012
Tom Day Tree Service, a tree service in Claremont, CA company, has launched a brand new website to give southern California residents information about what they do. The new website provides useful information about tree pruning in Claremont, CA services as well as other tree-related options for property owners.
A leader in tree care, Tom Day Tree Service, has released their new website which is designed to provide helpful advice and information to southern California residents. The new website for the tree service in Claremont, CA shows visitors the residential and commercial services that are available in the southern California region. These services include tree pruning in Claremont, CA, tree planting, tree removal, and all around tree care.
Trees play an important role in any environment, giving shade, fresh oxygen, and a home for small wildlife. Southern California plays host to dozens of native trees as well as to citrus orchards and fruit farms. The importance of tree pruning in Claremont, CA, tree planting in Pomona, and power line clearing in San Dimas, are just some of the topics discussed on the new website. Visitors will find that the new Tom Day Tree Service website is easy to explore, has a streamlined appearance, and now offers helpful and friendly advice.
The newly launched website for the tree service in Claremont, CA offers the following new features:

Home page
Residential page
Commercial page
Photo gallery
Blog
Contact page
Each page is clear and easy to read, offering visitors a view into the care of trees in a friendly tone. Visitors will also find that they can send a quick message to Tom Day Tree Service if they have any questions or comments to share. The blog is updated monthly with an article that addresses a specific aspect of tree care. Current topics include hiring an arborist, tree pruning, and the impact that tree services make on the environment. Visitors are welcome to leave feedback, ask questions or add additional personal experiences regarding their own trees.
To celebrate their new website, Tom Day Tree Service is offering a $25 discount on any tree care job to visitors of their website. Visitors can request a free estimate and click on an email link to send private requests to the tree service company. For information on hours of operation and to see all of the services that Tom Day Tree Service offers, check out their new website – http://www.tomdaytreeservice.com.
About Tom Day Tree Service:
Tom Day Tree Service has been taking care of trees in southern California for over 30 years. They offer professional services to residential and commercial property owners, and their trained tree technicians are fully licensed, insured, and bonded. From planting to tree health and tree removal, Tom Day Tree Service knows what it takes to keep trees healthy and beautiful. For more information on the services offered and other helpful information, please visit their website at http://www.tomdaytreeservice.com.