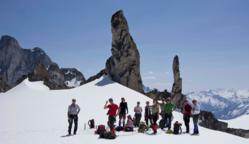 Spending a day exploring the glacier and wandering beneath the peaks made me feel as if I was a privileged guest in Mother Nature's most magnificent cathedral
Banff, Alberta, Canada (PRWEB) July 20, 2012
CMH Summer Adventures is geared up and ready to rock. With summer in full bloom, Area Manager Dave Cochrane and hiking guides at the Bugaboo Lodge are excited to offer a brand new glacier hike to the base of the Bugaboo Spires. This stunning trek allows hikers to get up close and personal with these world famous granite spires that dominate the view from the lodge.
Guests will fly by helicopter to the boundary of Bugaboo Provincial Park where they will unload and prepare for a hiking adventure leading into the heart of the park. The spires and surrounding glaciers that carved them out are a geological marvel, making this day hike a mind-blowing experience.
CMH staff experienced this hike first hand during lodge training earlier this month. Exhilarated from the day, one staff member said, "This is the most amazing hike I have ever experienced. Spending a day exploring the glacier and wandering beneath the peaks made me feel as if I was a privileged guest in Mother Nature's most magnificent cathedral. Those towering spires left me completely breathless and awestruck. You really have to experience it to understand how overwhelmingly powerful it is. I will never forget today."
This guided hike requires no previous experience, just a descent level of fitness for a day of solid hiking. With trips available until mid-September, there is still time to add this adventure into your summer schedule.
For more information or questions about an exciting summer mountain experience, visit our website http://www.cmhsummer.com or contact CMH Reservations at 1-(800) 661-0252 to book your space.
ABOUT CMH HELI-SKIING & SUMMER ADVENTURES:
Offering heli-adventures since 1965, CMH Heli-Skiing & Summer Adventures is the world's oldest and largest heli-skiing and heli-hiking operator. From their head office in Banff, Alberta, CMH operates exceptional mountain experiences based from 11 lodges located in the Bugaboo, Purcell, Selkirk, Monashee, and Cariboo ranges of British Columbia, Canada. Heli-skiing takes place each year from December through April, and CMH Summer Adventures take place from July into early September.