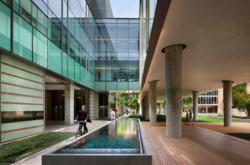 (PRWEB) July 18, 2012
Thanks to the integrated efforts of Rice University's Facilities, Engineering and Planning Department, the design team, and construction contractor Gilbane Building Company, the Brockman Hall for Physics, a research facility for experimental, theoretical, and applied physics, has been awarded LEED Gold certification by the U.S. Green Building Council. A Gold rating is an extraordinary achievement for a physics lab because of the energy needed to conduct experiments within a highly controlled environment.
The 110,000 gross square foot building requires sophisticated systems to keep noise, vibration, humidity, and particulates from interfering with experiments. Combined with Houston's high humidity and significant solar radiation, the project faced a daunting path to environmental performance.
KieranTimberlake, the architects for the building, met the challenge with fundamental decisions of how the building is oriented and how its facades would mitigate the negative effects of the sun. The building mass is split into two parallel bars with an open passage that admits day light and outdoor breezes, and a series of layered facades—complete with bird-safe measures—moderate solar gain and maintains precise light and temperature levels inside. A large portion of the building is located underground to isolate labs from vibration, with the benefit of a continuous green scape above and the pretreatment of storm water via a vegetated roof.
Highly efficient HVAC equipment is used, including an enthalpy recovery wheel—the largest in a single air unit in Texas—that will save as much as 30 percent of the energy needed to cool the building in the summer, and a dehumidification system that returns about 100,000 gallons of clean water per year for use elsewhere on campus. Construction materials were sourced locally, and cleverly detailed to limit constituent processes, including off-site fabricated, modular facade panels, dramatically reducing transportation emissions and construction costs.
Open networks of services in the building provide the flexibility and capacity for future change in research programs and mechanical, electrical, and plumbing systems, ensuring the building has a long, useful, and sustainable life.
Brockman Hall has been recognized with design awards from the Society for College and University Planning, Texas Society of Architects, American Institute of Architects Houston, Pennsylvania, and Philadelphia Chapters, and an International Architecture Award from the Chicago Athenaeum Museum of Architecture and Design/European Centre for Architecture.
Established in Philadelphia in 1984, KieranTimberlake has produced a diverse body of work for clients drawn to its environmentally ethical approach and innovative design. The firm is recognized for its fusion of research with architecture, receiving over one hundred design citations, including the 2008 Architecture Firm Award from the American Institute of Architects, the highest honor given to an architectural practice for consistently producing works of distinction, and the 2010 Cooper-Hewitt National Design Award for Architecture.