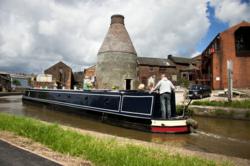 Stoke set that record in 2003, at the very height of the economic boom, but has managed to smash that total during a double-dip recession. It really speaks for the optimism and entrepreneurial activity in the city
Stoke-on-Trent, UK (PRWEB UK) 18 July 2012
Data collated and analysed by formations experts Duport.co.uk show that Stoke has finally beaten its June record for company formations. The old record of 108 was set in June 2003, but June 2012 has seen 112 new companies formed in the city.
"Nine years is an incredibly long time for a company formations record to go unbroken," stated managing director of Duport.co.uk, Peter Valaitis, "it's wonderful to hear that Stoke-on-Trent has now beaten that total."
"Stoke set that record in 2003, at the very height of the economic boom, but has managed to smash that total during a double-dip recession. It really speaks for the optimism and entrepreneurial activity in the city."
Stoke-on-Trent is also hoping to provide more jobs and opportunities in the area with a direct rail link from the city to Manchester Airport.
Network Rail's 'Northern Hub' initiative was announced by Prime Minister David Cameron on the 16th July, and includes a £560 million investment in transport infrastructure. This has been reported to include the addition of a fourth platform at Manchester Airport, which could receive direct trains from Stoke-on-Trent.
Stoke-on-Trent's new record for company formations is great news for a city looking to grow despite the economic climate. With new infrastructure and more people looking to build new businesses in the area, this shows Stoke taking positive steps to economic growth and stability.
Duport.co.uk is a leading UK company formation agent, operating in the UK for around 15 years. Duport registers around 10,000 new companies each year using its Companies House approved software. The Company Register which is maintained by Companies House contains public information about Limited companies and directors.