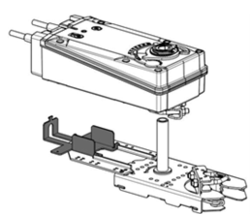 Danbury, CT (PRWEB) July 18, 2012
Belimo Americas, the leading producer of electronic control valves and air damper actuators, has introduced their ZG-JSL linkage designed to facilitate the attachment of the Belimo EF spring return actuators to a damper's jackshaft. The EF actuator utilizes rugged components in a pressure cast aluminum housing for added strength and reliability. It offers a high torque output of 270 in-lbs and a NEMA 4 option to meet tough environmental conditions found in many HVAC applications.
The ZG-JSL linkage simplifies typical installations and eliminates the difficulties where jackshaft bearings are hard to access. The ZG-JSL linkage has a built-in shaft which allows the direct coupling of Belimo actuators. The anti-rotation plate enables the installed actuator to be rotated 90 degrees for space saving applications.
Customers will need to order the ZG-JSL as an accessory ($250 list price), ZG-121 bracket ($53 list price) along with the purchase of an EF spring return actuator. Preassembled is not an option with the EF at this time.
By improving the method of installing actuators onto jackshafts, the installer saves on installation time translating into a cost savings. The quicker the install, the sooner the installer can move on to the next project. Now with the ZG-JSL linkage all jackshaft installations will only take minutes!
###