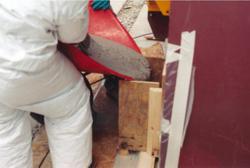 The adjustable flow and chemical resistance of EG-96 HP make it an excellent option for large volume industrial applications," said Steve Geiger, National Sales Manager for Concrete Restoration at W. R. MEADOWS.
Hampshire, IL (PRWEB) July 24, 2012
W. R. MEADOWS, a leader in the construction product industry for more than 85 years, recently introduced EG-96 HP, a three component, 100 percent solids, VOC and BGE free, epoxy resin system.
A high-strength, flowable epoxy grout, EG-96 HP is ideal for use in industrial projects including crane rail and wind turbine base grouting and support of chemical tanks, vessels, and vibrating equipment.
View Data Sheet: http://www.wrmeadows.com/eg-96-hp-high-strength-flowable-epoxy-grout/
EG-96 HP flows into spaces under machines and fills completely before hardening. It shows good resistance to impact and vibratory loading equal to reinforced rubber materials and will not delaminate under the most severe shock loads.
In addition, EG-96 HP contributes to LEED credits including Indoor Environmental Quality and Materials and Resources.
W. R. MEADOWS, INC. designs, manufactures, and markets high-quality building materials for today's construction professionals. Products are sold through an authorized distribution network. The family-owned and operated company focuses on product quality, business integrity, and outstanding service since its founding in 1926.
W. R. MEADOWS remains committed to producing environmentally-friendly products and systems that meet or exceed the latest regulations. From highway construction and repair, building construction and restoration, to waterproofing/vapor barrier/air barrier products and more, W. R. MEADOWS has been satisfying the needs of the public and private sector of the building construction industry for over 85 years.