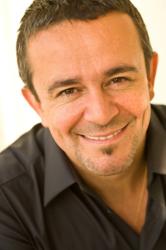 As a stylist, educator, and host, Nick has helped millions of people change their look and outlook in meaningful ways. We're excited to bring his energy and expertise to Rockville
Rockville, MD (PRWEB) July 17, 2012
Whether you're sporting a hair do, or a hair don't, Progressions salon spa and store and Nick Arrojo have you tressed for success. On July 24, Progressions welcomes Arrojo, world-class hairdresser, industry educator, and former "What Not to Wear" hairdressing host for the area launch of his ARROJO hair care products. The event will take place from 10:30 am to 3 pm in the retail store, located at 12211 Nebel Street. During his visit, Arrojo will discuss his product line, provide chair-side consultations, and mingle with clients and fans.
In celebration of his visit, Progressions announces its "Tresses in Distress" Contest. The contest, which debuts today via Facebook and Twitter, offers a complimentary cut and style session with Nick Arrojo (a $500 value) on the day of the event to a fan with tresses in distress.
If your tresses are distressed, simply log on to Progressions Twitter (https://twitter.com/progressionsDC) or Facebook page (https://www.facebook.com/ProgressionsSalonSpaStore) between today and July 22 at 11:59 pm. Post a photo of your tresses, and convey your need for a new look in two sentences (or 140 characters) or less. Contestants will be judged on the basis of their photos and creative explanations. The winner will be selected and notified on Monday, July 23.
"As a stylist, educator, and host, Nick has helped millions of people change their look and outlook in meaningful ways. We're excited to bring his energy and expertise to Rockville," said Progressions owner, Cindy Feldman.
To lock in a new look and enter the contest, visit the salon's Facebook or Twitter pages today. If you wish to attend the event, please contact 301-237-8757.
About Nick Arrojo:
Born in Manchester, England, Nick's career began as a Vidal Sassoon apprentice. He won the prestigious Young Hairdresser of the Year Award and at 21 became Vidal's youngest Assistant Creative Director. After 20 years in the industry, including stints as Creative Seminar leader for Wella International and Director of Education for Bumble and Bumble, New York, he opened ARROJO studio in Manhattan's SoHo district in 2001. In 2002 Nick became the hairdressing host for "What Not to Wear" and formed ARROJO education in 2003 and ARROJO product in 2007. Both companies enjoy great success and cement Nick's position as an independent pioneer, revered by clients and professionals alike. In 2007 Nick also signs his first book contract with St. Martins Press. The book, titled Great Hair and released in October 2008, is a hairstyling handbook providing every woman with secrets for looking fabulous and feeling beautiful. In 2008, Nick's forward momentum also drives a jaw-dropping 9000 sq. ft. expansion to the existing 4000 sq. foot studio. Completed in Spring 2008, it includes more salon space, ARROJO academy, ARROJO cosmetology school, and the ARROJO product concept store. Nick is named Salon Entrepreneur of the Year from Global Salon Business Awards. Nick's work has graced the fashion magazines of the world, he's a regular stylist at New York fashion shows, and a regular guest for hair-related news stories on the ABC and NBC TV networks. An acclaimed stylist, educator, and leading light in the business, Nick's ground-breaking approach to hairstyling––in particular his signature razor-cutting technique––is recognized worldwide. With a synergistic vision to make a positive contribution at the grass roots of hairdressing, in 2011 Nick formed a new alliance with Goldwell.
About Progressions salon spa store:
Established in 1984, the story of Progressions is exactly that. Together with her team, founder Cindy Feldman created a progressive space where personal growth of guest and service provider, go hand in hand. Today, Progressions has evolved into a 9,000-square-foot retreat where excellence in service and in education is everything to our team. One of the leading salons in the Washington area for more than 27 years, Progressions has built its reputation on an unwavering commitment to customer satisfaction. For more details, visit: http://www.progressions.com and LIKE Progressions salon spa store on their Facebook home page.