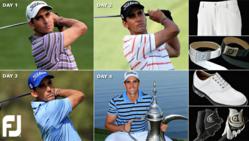 Traditional doesn't have to be boring and FootJoy proves that
Atlanta, GA (PRWEB) July 18, 2012
FootJoy Golf Apparel and FootJoy Golf Accessories now Available with a Corporate Logo at Promology101, the leader in logo apparel and promotional products. Promology101 continues to add retail name brand products to its diverse line of product categories. "One of our strengths in the promotional marketing industry is introducing brand name retail products to the corporate industry, says Joe Boccelli, V.P. Sales & marketing at Promology101. Businesses want to portray a high perceived company image and co-branding with a recognized retail brand allows them to accomplish this.
Whether a company is looking for logo golf items for a trade show or client gifts to cultivate a relationship, brand names like FootJoy grab attention. For nearly 150 years, FootJoy has been committed to creating superior golf footwear, gloves, and accessories that will enhance on-course experience.For more than 55 years, FootJoy has been the leading golf shoe on the PGA tour
Promology101 is a leader in the corporate apparel and promotional product industry, located in Atlanta, GA. With over 12 years of experience, Promology101 uses a consultative approach to solving customers' needs. For more information about Puma Golf and Promology101, please contact Joe Boccelli toll free at 1.888.658.2418 or you can visit the website at http://www.promology101.com.