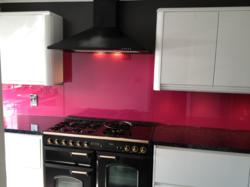 If there were a shift in the demand to these contemporary wall coverings there would be many more jobs created in the high unemployment areas of Oldham and Northern Ireland where these highly bespoke items are manufactured.
(PRWEB UK) 19 July 2012
Since its launch in 2010, DIY Splashbacks has grown from strength to strength. The company operates from two main locations in Belfast and Oldham. All of the products sold by DIY Splashbacks are made in the UK and so from humble beginnings has now created a number of manufacturing jobs across the UK. As one of the partners, Craig Lennox, from DIY Splashbacks puts it "Tiles are traditionally the most popular wall covering for kitchens and bathroms and the vast majority of them are manufactured outside the UK. If more people buy British made glass splashbacks, which are in my opinion a greatly superior product anyway, that would provide a massive boost to the manufacturing industry across the UK. Not only have we created glass manufacturing jobs, all the UK businesses we work with have had to create jobs also to satisfy the demand for our products so it all filters down to many other sectors too.".
The company sells made-to-measure glass splashbacks delivered direct to the consumer, and customers can do this entire process online. It is easy to obtain an instant price on the company's website for a custom-made splashback of any color. This website alone lists more than 2000 different colors and countless designs of bespoke splashbacks. The company's main factory is located in Oldham where they manufacture all these amazing splashbacks. Once a customer has made an order, it is manufactured in the factory and shipped straight to him or her. This is highly convenient as the customer does not have to waste time and money coming to get his or her order physically.
Since all of the company's products speak for themselves, they are produced on demand and thus there is no need to keep much stock. The company gives you an opportunity to eliminate the need for tradesmen thus enabling you to acquire high quality products at a reasonable price evading expensive labour costs. The focus of DIYSplashbacks.co.uk is to help you measure and fit your own splashbacks by offering you a bespoke option if you simply supply them with a drawing or a template of your splashback detailing your measurements. If you need help or more details achieving this you can contact the company via the 'Contact Us' page on the website.
The company services and supplies to the UK and Ireland, therefore as such, it has two-principle locations now, but it will soon become necessary to have more locations as the business is rapidly expanding. Export growth is also planned in the near future with a new website targeting Europe on the horizon.
All the splashbacks are manufactured using a 6 millimeter toughened, low iron glass that has polished edges. This makes the glasses heat resistant to more than 200c, thus making them suitable to use in any place in the kitchen including behind a gas hob. The most obvious benefit of using coloured glass in your kitchen is its aesthetic value since it looks stunning as a kitchen wall covering. Another advantage of this glass is that it is low maintenance, does not require grout that tends to stain and is so easy to clean.
Measuring and fitting glass splashbacks on your own is so easy, since the company provides all the necessary instructions. In the past, many of the consumers wondered what they would do if their cooker hood was curved. These customers would be happy to know that DIYSplashbacks.co.uk has now come up with solutions by launching a variety of curved glass splashbacks. The company's main products include coloured, striped, fitted, clear and printed glass splashbacks.
Its main selling point is offering their customers an unrivalled experience through their customer service to assist them every step of the process. Thus, you should not hesitate to contact the company should you need any advice or help. DIYSplashbacks.co.uk does not hide behind automate telephone service or multiple online forms and provide a very personal service.