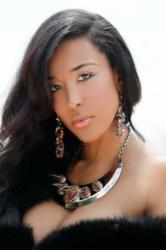 Hollywood, CA (PRWEB) July 26, 2012
Listen to Bo Benton's "Intimidated" and you will instantly be transported to a party. A fact her legions of fans have known about for years and was proven with nearly 1 million views on Youtube alone in only three weeks! With a freshly inked distribution deal with 101 Distribution, the stage has been set for Bo's fans to consume her highly memorable and original music.
Bo's single "Intimidated" is spreading like wildfire! Within four weeks of posting, the video for the single exceeded 1,000,000 hits on YouTube. In addition to that it has gained views on over 125 video websites, along with rotation at MTV Jams and about 600 plays at Music Choice.Top DJ's like DJ Greo of WEDR Miami, DJ Carisma of KPWR Los Angeles, and DJ G-Raw of WJLB Detroit can't get enough of the single. With over 15,000 spins at Urban, Crossover, and Top 40 radio, and a #21 ranking at National College Radio, it shows! Says DJ Greo, "Bo Benton has a future sound! I look to many records from her!" From DJ Carisma as enthusiastic as his name, "Intimidated is gaining momentum fast, and the video is next level!". And DJ G-Raw says, "Intimidated has become my 'go to' record in the club!" With the help of 12 national street teams, throngs of partygoers are being drawn to Bo's heat!
Sung in a provocative, robotic tone, Bo's vocals are deep, penetrating, and her words arrive in dreamlike piecemeal imagery coated with touches of spacey reverb and echo over a beat that can cause the most die-hard wall flower to dance. This slick and sharply produced track is the quintessential bad girl in control anthem that has taste makers taking notice, radio executives a buzz, her fan's wanting more new dance tracks, and according to Bo Intimidated is just the tip of the iceberg.
Since her 2008 debut album release Queen of The Night, Bo, a former model, has been dividing her time between tour dates and studio sessions to work on her sophomore album release The Underground Collection due for release this September. "The music in my head never sleeps, it's like there is a constant club going on in my brain," cracks the Chicago born Pop Troubadour Bo Benton.
Bo talks a bit like she sings: a stream of outbursts colored with wry observations, humorous contradictions and periodic tangential turns.
Since her debut release, Bo has been piling the coal in the back of her freak train, quietly building momentum and honing her hybrid style twist on the Dance/Pop Music genre. "My new album is one I've envisioned for years, I really love how it's all coming together. My goal is to create a non-stop party train from the moment you press play."
Bo grew up on the South Side of Chicago in the inner city along side a family of musicians. "All my family is into music," she says, "but I had the bug hardcore. I knew music was my calling."
Bo started writing songs and poetry at the age of 13 and never looked back. By the age of nineteen she was the lead female singer of a cover band with her first gig touring in Japan.
A musical sponge, Bo keeps busy between writing, producing, and performing by reading up on music staples like Billboard and Rolling Stone Magazine and keeping her radio locked on KISS FM where she looks forward to hearing her latest single Intimidated blast from her speakers.
As for the new album, Bo has been going to New York and D.C. to record with veteran producer Danny Staggs. "He was just what I needed," says Bo of her working with Staggs. "He keeps things moving. I've recorded with producers who are definitely on their A-game, but to work with a musical vet that's been around the block and back producing world wide dance hit's like Inner City's Good Life, a song that tons of artists have sampled and interpolated from, I know we will create a great and lasting musical sound."
Request Bo Benton's Intimidated on MTV2, 106 & Park, and MUCH MUSIC Today, and visit http://www.bobenton.com/ to grab her other new dance tracks.