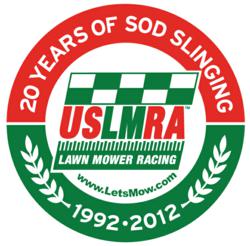 We're going to kick grass in America's heartland!" Curt Hodges, President, Central Iowa Lawn Mower Racing Association.
Carlisle, IA (PRWEB) July 24, 2012
The Hawkeye State will be on the Cutting Edge of American motorsports Saturday and Sunday, July 28-29, 2012, as The Central Iowa Lawn Mower Racing Association (CILMRA) hosts the STA-BIL America's Heartland Summer Nationals & US Midwest Open, july-28-29, 2012 for two days of sod stomping at the River Bottom Raceway in Carlisle, Iowa, just outside Des Moines.
Grass kickers from across the country will compete in bladeless competition at the River Bottom Raceway, 101 HWY 5 Carlisle, IA 50047, in Carlisle, Iowa. Racing starts at 4:00 PM on Saturday and 1:00 PM on Sunday. Admission is $5.00 for those 11 years and older, free for children ten and under.
The turf battle will feature racing mower action on riding lawn mowers with all cutting blades removed at speeds up to 60 mph. Racers compete for points, trophies and bragging rights, as well as the occasional garden gnome, rather than cash prizes. Racing is sanctioned by the U.S. Lawn Mower Racing Association(USLMRA), which is celebrating its 20th Anniversary in 2012, and is sponsored by STA-BIL®, America's top selling fuel stabilizer.
"As a USLMRA Local Chapter, we take great pride in hosting both the STA-BIL and U.S. Open Racing Series," said Curt Hodges CILMRA President. "We are so excited about this weekend, and we've been planning for months to make it spectacular. We plan to make this a very special event for drivers and spectators alike."
For this event, CILMRA has teamed up with "Central Iowa Outdoors Without Boundaries," an Iowa group that raises money to take handicapped outdoorsman hunting and fishing. "This group is 100% independent and 100% of every dollar they raise goes straight to the cause," added Hodges. "A portion of all sponsorship and race proceeds will go to support this great group of individuals."
Weekend festivities will also include an antique tractor display, "Tractors of Yesterday" close to the track that will be open and will have tractors on display and a Saturday night downtown street dance.
Local sponsorship and event support is provided by NAPA, Barney's Towing, Fore Seasons Golf and Theisens of Newton, Iowa; Subway of Carlisle; Mike's Machine Repair of Reasnor, Iowa and Mike's Lounge in Monroe, Iowa along with VOCON Auctions, Adventures in Advertising, Doll Distributing, Ankeny Sanitation, Bob's Trophies, Wycoff Heating, Killen Enterprize, Bob's Transmission, Tractors of Yesterday, Schabel Trucking, Cal's Fine Foods, Local VFW, Jims Johns, CNM Outdoor Equipment and O'Reilly Auto Parts
About the U.S. Lawn Mower Racing Association
Founded on April 1, 1992, The U.S. Lawn Mower Racing Association sanctions and presents organized lawn mower racing across America including the 20-race STA-BIL Lawn and Garden Mower Racing Series, a U.S. Open National Series, Local Traveling Chapters and Home Track Affiliated Clubs, hosting 140 events each year. The USLMRA is the nation's oldest and largest National Lawn Mower Racing Sanctioning Body with more than 800 racers nationwide. Lawn mowers race in several road course classes with all cutting blades removed at speeds from 10-60 mph. Racers compete for trophies, points and bragging rights, never for purse money. The annual STA-BIL Keeps Gas Fresh Finals national championship is televised on Fox Sports Net "Race Freaks" USLMRA sponsors include STA-BIL Fuel Stabilizer, HEET GasLine Antifreeze, Diesel Power!,104+ Octane Boost, No Leak, Alumaseal, Start Your Engines!, K&N Filters and Gnomefrenzy.com. For mow info please visit http://www.letsmow.com.
About Gold Eagle Co., makers of STA-BIL Fuel Stabilizer
For 80 years, Gold Eagle® Co. has been an industry pioneer in the production and distribution of aftermarket fluids and additives, creating products that help preserve, protect and enhance the performance of engines everywhere. Gold Eagle® Co is a leader in the product development, manufacturing, marketing, and distribution of branded engine performance and maintenance chemicals. Privately held and headquartered in Chicago, Gold Eagle Co. is the manufacturer of leading brands, including STA-BIL® Fuel Stabilizer, HEET® Gas-Line Antifreeze, NO-LEAK® Treatments, 104+® Octane Boost, Start Your Engines® and DieselPower!® Diesel Additives. To view a complete line of Gold Eagle products or learn more about the Company, please visit http://www.goldeagle.com.
2012 STA-BIL Lawn & Garden Mower Racing Series & US Open Schedule
Feb 18-19, Florida State Fair, Tampa, FL
April 28, Windy Hill Speedway, McDonough, GA
May 19, Gusher Days, Oil City, LA
June 2, Cure Mower Cancer Open, Superior, WI
June 9, Lions Club, Englewood, TN
July 4-5, 4th of July Festival, Estacada, OR
July 21-22, Huntington's Disease Race For Research, Sparta, MI
July 28-29, River Bottom Raceway, Carlisle, IA
August 3-4, Bowles Farms, Clements, MD
August 11-12, U.S. Open V-Twin Shootout, Vestaburg Speedway, Vestaburg, MI
August 18, Westmoreland Fair, Greensburg, PA, Greensburg, PA
Sept. 1, STA-BIL Keeps Gas Fresh Finals, Delaware, OH
Sept. 2, U.S. Open Finals, Delaware, OH
Nov. 3-4, Sam Rogers U.S. All American Open, Stevenson, AL
For more information visit http://www.letsmow.com or call (847) 272-2120.
##############