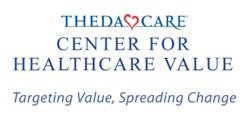 The summit made me want to shine a light on these experiments and others like them.
--Helen Zak, president and CEO, ThedaCare Center for Healthcare Value
Appleton, WI (PRWEB) July 18, 2012
More than 150 leaders gathered in Waukesha, Wisconsin last month for a summit hosted by the Partnership for Healthcare Payment Reform (PHPR), a strategic partner of the ThedaCare Center for Healthcare Value.
The one-day conference refreshed enthusiasm for taking on the challenges of payment reform. It featured a welcome speaker, keynote speaker and several presentations.
Keynote Valinda Rutledge, director of the Patient Care Model Group for the Center for Medicare & Medicaid Innovation (CMMI), explained bundled payments and how they can simplify healthcare for patients and purchasers.
Speakers also discussed topics related to provider and payer experiments going on across the state of Wisconsin, including:

Payment Reform: The Medicaid Perspective
PHPR Pilots: Accelerators and Key Learnings
From Episodes to Bundles: Two Sides of a Risk Coin
Integrated Payment Reform, Delivery System Redesign and Transparency
Medicare Payment Reform: CMS/CMMI Pilots
Participants shared positive comments about the summit's takeaways and networking opportunities. "I left energized and enlightened," said Helen Zak, president and COO of the Center. "It certainly left me wanting to shine light on these experiments and others like them."
Access presentation slides and a summit recap on the Center's new Payment Experiment Forum.
The ThedaCare Center for Healthcare Value brings together the most thoughtful leaders in business and healthcare to drive value-based healthcare. Working collaboratively with providers and purchasers, the Center identifies the best examples of revolutionary thinking both in the way care is delivered and the way it is reimbursed. The end result is greater value for patients and purchasers.