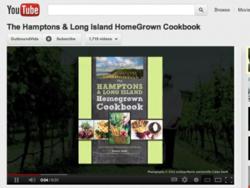 According to Steve Roth, Voyageur Press, the ability to effectively reach our audience demographic via a dynamic social media outlet made it a valuable tool to add to our marketing muscle. It is a first for us as part of the advertising outreach.
Hamptons, Long Island, New York (PRWEB) July 18, 2012
With the production of its first-ever YouTube advertising campaign, Quayside Publishing is betting on the power of Google's YouTube channel to reach the vast food and drink enthusiast audience for "The Hamptons & Long Island Homegrown Cookbook."
The Hamptons & Long Island Homegrown Cookbook YouTube Advertising Video: http://tiny.cc/9xmlhw
Acknowledging the continued, passionate interest in food, cooking, and producing artisanal ingredients, as well as a burgeoning interest in cultivating a Hamptons lifestyle, an compelling and fascinating YouTube video episode ad offers a unique opportunity to showcase the natural beauty, distinctive, inspired cuisine, food stories and recipes as told in the rare collection of chef and grower profiles celebrated in the Long Island Cookbook.
According to Steve Roth, marketing manager, MVP Books & Voyageur Press, Quayside Publishing Group, "We were looking for something different from a book trailer. We talked to the Backyard video producers for YouTube, researched the metrics and determined the combination of affordable cost of entry, plus the ability to effectively reach our audience demographic via a dynamic social media outlet made it a valuable tool to add to our marketing muscle.
It is a first for us as part of the advertising outreach," he noted enthusiastically.
"Plus, the high production quality and hands-on YouTube support, made this first foray into a video ad campaign an opportunity that allowed for a more interactive approach vs. traditional print ads and web banners," Roth added.
The YouTube campaign includes two-spots: a 30-second and 15-second, featuring full-color images taken from the Hamptons Cookbook pages by photographers Lindsay Morris and Jennifer Calais Smith. A female voice-over narrates the delicious, good-food news to be found in the cookbook, and a closing chyron call-to-action links the viewer to purchase the book.
Underscoring the relationship of the Long Island Homegrown chefs' to their local growers and to nature, the poignant screen images portray several of the chefs from the book's 27 Homegrown chefs.
Chef Tom Schaudel is seen walking Aquebogue's Paumanok vineyards with winemaker Kareem Moussad, the grower who most inspires him; 18 Bay's chefs Elizabeth Ronzetti and Adam Koeppels with Karen Lee in the North Fork's Sang Lee Farms. Also spotlighted are the mouthwatering, vibrant food photo essays that triumphantly give tribute to the locally sourced Homegrown recipes.
Aiming for a viral, vlogging phenomenon, the Hamptons Homegrown 15-second YouTube video ad will formally launch immediately following the 4th of July weekend, when viewers will be more likely to be watching YouTube on their desktops, or on the beach via their iPads or smart phones. The ad will target the foodie demographic throughout New York City and Long Island as the commercial airing prior to videos that fit the target demographic, using Google's targeting guidelines with a Buy link.
The 30-second YouTube ad will also be featured on YouTube as well as used as a separate marketing tool, seasoned freely throughout the book's other social media marketing efforts, including The Hamptons & Long Island Homegrown Facebook page and the author, Leeann Lavin's blog about the making of the book and chef and food stories at Master Chefs & Their Gardens along with the author's corresponding Twitter feeds: @chefsgardens and @gardenglamour, in addition to Lavin's Homegrown Pinterest page.
Lucas Berg of Backyard, the video advertising company that produces and manages commercials for the YouTube ad platform, is the account manager for the "Hamptons & Long Island Homegrown Cookbook." Berg explained the YouTube ads are available to more than 89 million Americans who watch nearly 1.5 billion YouTube videos every day. He added "Further, more than 40% of people take action after watching a video ad, making it a highly effective marketing channel.
We are a very hands-on extension of a brand's marketing communications team," noted Berg. "Here, the Hamptons & Long Island Homegrown Cookbook author and Roth selected the images from the Cookbook and developed the script, then handed it off to us. We edited the piece to create the montage Spotlight Video and recorded the voice-over to produce a memorable, entertaining ad that will reach a key target audience, building awareness and motivating them to buy the Cookbook."
According to Google's YouTube, advertising on the channels can "ignite your brand or business using the emotion, power and sheer fun of video. Marketing on YouTube turns viewers into fans, and fans into new customers – delivering you real success day by day."
For more information,
For more information on arranging for an interview with the author, chef or grower, or to secure a manuscript for book review please contact: foodanddrinkny(at)gmail(dot)com or MEDIA CONTACT – BOOK REQUESTS, EXCERPT PERMISSIONS, INTERVIEW SCHEDULING: Dalyn A. Miller, 617-504-6869 / DMiller(at)DalynMillerPR(dot)com
Contact
http://gobackyard.com
Jackie Richard: jrichard(at)gobackyard(dot)com or pr(at)gobackyard(dot)com
About Backyard Inc.
Founded in January 2010, Backyard specializes in connecting businesses with local customers by leveraging the power of online video. Backyard's investors include 500 Startups and Tomorrow Ventures.