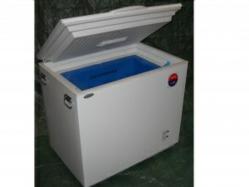 The BRFV84 vaccine refrigerator takes new steps to provide healthcare professionals with a durable safety net against future power crises.
(PRWEB) July 18, 2012
Backup-power.ca announces the BFRV84 vaccine refrigerator, the solution to protecting essential vaccines for the public in lieu of unexpected power failures at less than half the cost while lasting more than twice as long. By recognizing the inability to warn medical professionals of these sporadic outages, the product sets out to prepare medical institutions of all types with equipment that leads the market in economy and quality.
The NASA-developed refrigeration technology incorporates a unique thermal design that reduces the amount of power required to maintain refrigeration, allowing it to last longer than conventional models. Over 15 years of testing and application went into the making of the BRFV84, the technology of which being pre-qualified by the World Health Organization and maintaining standards from Canadian and U.S. Vaccine Storage and Handling Guidelines.
Backup-power.ca understood the need for medical professionals to be prepared in case of an emergency; more importantly, that not all backup power solutions are sufficient to maintain equipment properly. For this, the BFRV84 protects many routine vaccinations that depend on refrigeration to remain viable like DTP that prevents diphtheria, whooping cough, and tetanus. The range of vaccines extends from polio, to hepatitis A and B, pneumonia, and even influenza.
The BFRV84 vaccine refrigerator boasts up to 4-day usage, operating at a fraction of the power of other vaccine refrigerators while costing less than half of what a comparable model would to do the same job for only a few hours. Its 84-litre capacity is also able to maintain temperatures at the onset of power failure where many models drop off.
Power outages pose a real threat to business – especially the health sector. In 2011, over 41 million people were affected by power outages in the U.S. alone. The power outage in Winnipeg, Manitoba in April of this year resulted in the postponing of several procedures. In June of 2010, Rose Medical Center of Denver Colorado suffered two power outages in a single week. One instance reports the failure of backup power to return immediately and the center went powerless for two hours.
The most devastating outage occurred in 2003 affecting a reported 50-million people in the Midwest and Northeast United States. The power outage lasted between a few minutes to over two days where EMS calls doubled in the first 24 hours, largely with concerns facing medical storage and availability. At the time, not all equipment was attached to the generator.
With lack of predictability being a common issue with power outages, effective measures to secure and ensure the quality of vaccines is crucial. The BRFV84 vaccine refrigerator takes new steps to provide healthcare professionals with a durable safety net against future power crises.