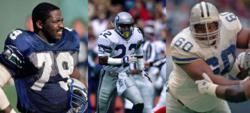 It is important to spread awareness because people do not know how sleep apnea can affect their health if it isn't treated.
Seattle WA (PRWEB) July 17, 2012
Former Seattle Seahawks players Jacob Green and Nesby Gasglow along with former Dallas Cowboy player, Derek Kennard, came together to tackle sleep apnea during an event held at the CenturyLink Field this past Saturday. The event was the third event in the national sleep apnea awareness campaign, "Tackle Sleep Apnea."
Former NFL players shared their stories and experiences with sleep apnea. In addition, the players were available after the event to sign autographs. " Spreading awareness is very important to me and I am doing my best to get the word out. Sleep apnea is dangerous and can cause many health problems which can even lead to death," Green said.
What is sleep apnea? According to the American Sleep Apnea Association (ASAA), "Sleep apnea is an involuntary cessation of breathing that occurs while somebody is asleep."
This event was the third event scheduled, in the nationwide campaign, "Tackle Sleep Apnea." The campaign was created by David Gergen, the president of the Pro Player Health Alliance, and it is taking place across the United States with a goal of tackling every region. The campaign stems from the need to create sleep apnea awareness in efforts to help save lives.
Dr. Steve Carstensen, DDS, President Elect of The American Academy of Dental Sleep Medicine, Dr. Steve Marinkovich, DDS, Diplomate of the American Board of Dental Sleep Medicine and Board Certified Sleep Physician, Dr. Teresa Jacobs, shared information in a discussion on the signs, symptoms, dangers and treatment options for sleep apnea. " The Continuous Positive Airway Pressure (CPAP) machine is the best treatment option for those who can tolerate it, but many people are not aware of the alternatives, such as oral appliance therapy (OAT)," Carstensen said. "It is important to spread awareness because people do not know how sleep apnea can affect their health if it isn't treated."
OAT is an alternative to the continuous positive airway pressure (CPAP) mask, which is considered to be the 'gold standard' for sleep apnea patients that can tolerate it. Unfortunately, CPAP treatment can be challenging and is not for everyone. CPAP intolerance is far more common than people realize. OAT is an effective alternative and is now offered as a first line of treatment for mild-moderate sleep apnea patients.
Dentists offer OAT through creating a custom fabricated mouth piece that is similar to a retainer. The mouth piece works by repositioning the jaw and pushing the tongue forward or by restraining the tongue to keep airways open.
As part of the national sleep apnea awareness campaign, 25 Seattle residents were offered free in-home sleep tests and free sleep apnea treatments. An in-home sleep test is an alternative to spending the night in a sleep lab and gives an individual the opportunity to record breathing patterns in the comfort of his/her home bed.
Green and Glasgow are currently being tested for sleep apnea and plan to get other players involved in efforts to get them tested and treated if the results show they have the condition. "I saw what sleep apnea can do to you first hand when I saw a teammate of mine stop breathing several times while he was asleep. It scared me and now I am doing everything to raise awareness. It is not only NFL players that suffer from this, but also millions of Americans," Glasgow said.
To schedule a consultation to find out more about sleep apnea call Dr. Carstensen at 425-247-0715 or visit http://www.stevecarstensendds.com . Dr. Carstensen is located in Bellevue, WA and has been practicing dentistry for 29 years. In addition, he has been treating sleep apnea patients for 14 years. "Untreated sleep apnea increases chances of heart disease, diabetes, and cancer. Unfortunately, the vast majority of people who are suffering from obstructive sleep apnea are undiagnosed. Snoring is not just a social issue," Carstensen said.
Visit Sleep Test to take an online questionnaire and find out if you may be at risk of having sleep apnea.