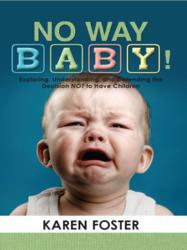 "An objective look at our national priorities separate from the propaganda can only lead to one conclusion, which is that as a nation we see family and children as a burden to society and publicly investing in them as un-American"
Portland, OR (PRWEB) July 23, 2012
A growing number of American women are deciding to forgo motherhood. Karen Foster, a non-parent and outspoken advocate for this cause, has just released the 2012 edition of her book, No Way Baby! Exploring, Understanding and Defending the Decision NOT to Have Children.
No Way Baby! demonstrates that the objections heard by the childless by choice community such as "why do you dislike children?" or "why are you so selfish?" could easily be turned on society at large when looking at public support for family values. "An objective look at our national priorities separate from the propaganda can only lead to one conclusion, which is that as a nation we see family and children as a burden to society and publicly investing in them as un-American", says Foster.
In a new related video interview, Foster explains that many disillusioned women are now doing all the work of a 1950's era housewife plus managing a full-time job on top of it and find they are barely able to survive. She also points to the unprecedented legal action taken by the Republican Party to restrict access to birth control and recommends young childfree adults seek permanent sterilization. No Way Baby! puts forth the notion that we mislead women about the joys of motherhood and offers a positive alternative through the ever-growing childfree lifestyle.
No Way Baby! is available at Amazon.com and other major distribution channels.
About the Author
Karen Foster holds a degree in clinical psychology from California State University, San Francisco. After spending years in both the non-profit and corporate worlds, Foster relocated to Portland, Oregon and started her own business as a speaker and a coach. Foster is also a professional development trainer who travels across the country working to inspire others.