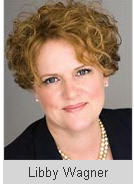 Influencing with integrity is an essential skill for leaders, business owners, managers and supervisors.
- Libby Wagner
Seattle, WA (PRWEB) July 18, 2012
NetSpeed Learning Solutions has announced topic and speaker for the third presentation in their 2012 Thought Leadership Webinar Series. Libby Wagner, president of Libby Wagner & Associates, will present Influencing Your Success and Others: Redefining Your Leadership Voice. Wagner will explore the relationship between influence -- which includes the ability to gain trust and build successful relationships -- and integrity, which involves aligning goals and values.
Wagner describes the purpose of her presentation as helping participants "learn how to clarify exactly what your personal vision is for yourself as a leader as well as identify actions, behaviors and conflicts in relationship to your vision and assess, identify and set intentions around elements of being, thinking and doing as part of your leadership voice."
Wagner's presentation is scheduled for Tuesday, July 24, 2012 at 2:00 p.m. EST. Further information and registration is available at the NetSpeed Learning Solutions web site.
ABOUT THE PRESENTER, LIBBY WAGNER
Libby Wagner, president of Libby Wagner & Associates, is one of the only poets regularly welcomed into the boardroom. Author of the Amazon best-seller: The Influencing Option: The Art of Creating a Profit Culture in Business, Libby is often called The Boardroom Poet™. Libby's expertise in leadership, strategy, management, and executive team development inspires organizations to create Profit Culture environments.
Libby garnered international acclaim in her 2008 induction into the prestigious Million Dollar Consulting® Hall of Fame and her selection in 2010 as one of only two dozen people in the world certified through Alan Weiss's Mentor Mastery™ Program.
ABOUT NETSPEED LEARNING SOLUTIONS
NetSpeed Learning Solutions designs and delivers total learning experiences that drive business results. As learning architects, they offer customizable solutions including learning content, platforms, services and dedicated staff to support leadership, supervisory, and customer service training initiatives.