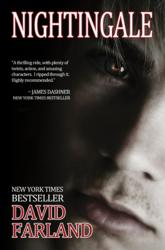 Los Angeles, California (PRWEB) July 19, 2012
JPX Media Group has announced the winners and finalists of THE 2012 INTERNATIONAL BOOK AWARDS (IBA). Over 300 winners and finalists were announced in over 100 categories covering print, e-books and audio books. Awards were presented for titles published in 2010, 2011 and 2012.
Jeffrey Keen, President and CEO of JPX Media Group, said this year's contest yielded a large number of entries from authors and publishers around the world, which were then narrowed down to the final results.
David Farland's contemporary fantasy/thriller Nightingale won the young adult fiction category. The novel tells of sixteen-year-old Bron Jones, abandoned at birth and raised in foster care. He is kicked out of one home after another for being "too strange," until he meets Olivia, a foster mother who recognizes that Bron isn't even human. He's a "nightingale," a member of an ancient species left to be raised among mankind. This news sends Bron on a quest to discover where he came from, how to use his unique abilities, and most importantly, precisely what he is.
One reviewer described Nightingale as "High School Musical falls in love with Twilight and has Harry Potter babies." Upon hearing that, Farland laughed and said, "I've been trying to figure out 'What it's like,' since it's not quite like anything that I've ever seen. This description kind of fits. Most reviewers recommend it as a book for fans of The Hunger Games."
David Farland is a New York Times bestselling author of the Runelords fantasy series and has worked with such major franchises as Star Wars, the Mummy, and Starcraft, in addition to his own works. Farland has won several awards in the past, including the Philip K. Dick Memorial Special Award for Best Novel in the English Language (science fiction), and the Whitney Award for Best Novel of the Year (historical fiction).
The International Book Award was created to honor knowledge, creativity, wisdom & global cooperation through the written word.