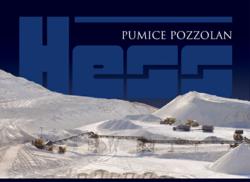 The study is the most comprehensive of its kind on the performance of Hess pumice pozzolan as a high value SCM in concrete, and reveals several key benefits which lead to its proven and timeless durability.
Malad City, ID (PRWEB) July 18, 2012
A technology lost for millennia and legendary for its strength, durability, and appearance is on track to make a comeback in the 21st century. The University of Utah recently released the results of an extensive study of pumice-fortified concrete using HessPozz, a natural pumice pozzolan that is mined, refined, and shipped worldwide by Hess Pumice Products.
The full study can be found at http://www.hesspozz.com/support/pozz-UofUtah-study-results.html
Pumice has long been recognized as the original, natural pozzolan—used by the Romans in their 2000+ year-old concrete structures. Its proven performance in some of today's most demanding environments has sparked a renewed interest in pumice pozzolan's amazing history and a renaissance of its popularity as the proven concrete pozzolan.
The just-completed University of Utah study supports and validates a renewal of interest in a product that was once lost to history. The study is the most comprehensive of its kind on the performance of Hess pumice pozzolan as a high value SCM in concrete, and reveals several key benefits which lead to its proven and timeless durability. Key benefits include:
—Hess Pumice Natural Pozzolans are free of crystalline silica and other hazardous materials.
—Hess Pumice Natural Pozzolans reduce the heat of hydration anywhere from 10 - 40 % - depending on the pumice pozzolan chosen and the final concrete mix design - during the first 100 hours.
—Pumice pozzolan, incorporated as an SCM in 6 bag mix design with 20%-30% replacement, range from 3300 PSI to 4600 PSI in 7 days and from 4800 PSI to 7000 PSI in 28 days, again depending on which pozzolan was used and at what percentage of replacement. In this scenario, the pumice pozzolan is employed as both an SCM, to reduce the carbon footprint, and perhaps more importantly, as an admixture to 'innoculate' the concrete against the various types of chemical attacks well known to all concrete practitioners today, e.g., ASR, Sulfate attack, Chloride ingress, late forming enttringite, thaumasite, etc.
—Pozzolanic qualities can be further enhanced and compressive strengths generously boosted with the addition of an HRWR to lower the water to cement ratio. In fact, an enhanced high-reactivity natural pozzolan can now be employed to produce a high strength low-shrink HPC for the most demanding applications—and so easy to use. Simple and quick to add on-site, or at the ready mix plant. Excellence gets easier and the health risks involved with other pozzolans go away.
—All of the pumice pozzolan blended cement mix designs easily qualified, per ASTM, as 'High Sulfate Resistance Cements'.
—Pumice pozzolan mix designs increased resistivity to chloride penetration from a minimum of 214% of control to nearly 500% in the most effective mix design.
—Pumice pozzolan-based concrete proved to be 'very effective' at mitigating ASR in a concrete containing highly reactive aggregates. Per ASTM, any expansion over 0.1% is considered 'deleterious'. The various pumice pozzolan mix designs ranged from 0.011% to 0.029%, while the OPC based mix showed 0.699% expansion.
"We are pleased the University of Utah managed such a comprehensive and conclusive study on the benefits of our various pumice pozzolans," said Joe Thomas, head R&D engineer at Hess Pumice. "This independent technical analysis will provide confidence to those who design and work with concrete in all its various permutations. We look forward to sharing and discussing these results with architects, engineers, and the concrete industry as a whole."
For a quick comparison between pumice pozzolan, and other pozzolanic products on the market today, see the pozzolan scorecard at http://www.hesspozz.com/support/hesspozz-scorecard.html
Hess Pumice is the world leader in pumice mining, processing, refining and distribution with hundreds of products shipped to thousands of customers across six continents. Located in Malad City, Idaho, for four generations Hess has been dedicated to assuring customers consistent quality and on-spec, on-time delivery.