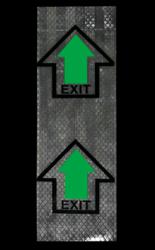 Design and manufacturing innovative products that improve the safety of our customers' products and working environments is something William Frick & Company has done for a very long time
Libertyville, IL (PRWEB) July 18, 2012
William Frick & Company introduced EscapeTape™ Safety Tape last month at the 2012 Offshore Technology Conference in Houston.
The 3-way safety marking tape helps people navigate buildings, drilling rigs, cruise ships and office spaces in the dark. It is typically adhered around doorways, along the edges of stairwells or anywhere extra caution should be taken when there is a loss of power.
"Safety is a top concern in the offshore, drilling and energy industries," William Frick & Company President Jeff Brandt said. "We featured this new product at the OTC tradeshow because of the need there for innovative safety products."
Once EscapeTape™ is charged by incandescent, fluorescent or natural light, it can glow for up to 24 hours, double the duration of competitors' products.
Thus, ocean-going vessels and rigs are prime candidates for this product. Dark corridors and interior spaces can be drastically improved with the glow-in-the-dark and reflective features when people must quickly navigate them in an emergency.
In addition, the 3-way safety marking tape is designed to withstand high-humidity and sea water exposure. Also, unlike other glow-in-the-dark materials, it does not use any radioactive materials, a safety concern of some end-users.
This product can also be used in commercial, industrial and residential buildings in a blackout, such as the one that struck Arizona, California and parts of Mexico last year, according to BBC News. Approximately five million people were left without power for days on end.
In addition, public buildings are required by law to have emergency backup lights located at exits and along main hallways in the United States. EscapeTape™ can be used in conjunction with backup generators to ensure maximum visibility in emergency situations.
Thousands of people were left in the dark when the earthquake and tsunami wiped out several nuclear power plants in Japan last year. In the future, people can more easily evacuate an area during a natural disaster with the glow-in-the-dark and reflective labels showing the way.
"Design and manufacturing innovative products that improve the safety of our customers' products and working environments is something William Frick & Company has done for a very long time," Brandt said. "A product like this has many applications, and we have a lot of interest in it."
About William Frick & Company
A leading producer of customized identification products like signs, RFID tags, barcode labels and utility markers, William Frick & Company is a trusted supplier to the telecommunications industry, oil and gas companies, electric utilities, governments and others needing labeling solutions. Frick offers best-in-class identification products and services customized to client specifications. The company is ISO 9001-2008 process certified.
For more information about William Frick & Company product offerings, procurement options, service and solutions, call (847) 918-3700, or visit the company's website at http://www.fricknet.com.