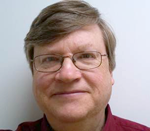 Herndon, VA (PRWEB) July 19, 2012
Chiliad Inc., the leader in iterative discovery solutions for big data analytics, today announced the promotion of Greg Brooks to Director of Development. In his new role, Brooks will lead the company's team of software engineers to develop the next generations of Chiliad's flagship Discovery/Alert data analysis tool.
As Director of Development, Greg brings 32 years of software engineering experience to Chiliad's team of world-class software developers. Greg will own the overall development effort for Chiliad's proven Discovery/Alert product to market with even greater levels of scalability, functionality, dependability and performance. Greg is the author of Discovery/Alert's ODBC and commercial database connectors, and also contributed to the development of the product's award-winning information retrieval and analysis component.
"I am thrilled to promote Greg to a key leadership position on our executive team," said Craig Norris, Chiliad CEO. "He has the depth of technical background and experience in team leadership that are the ideal match for driving our next generation advancements in iterative discovery solutions."
Before joining Chiliad, Greg had similar software development team leadership roles at McKesson and Computer Associates.
"I have the best job in the company as the team makes exciting advances every day, creating innovative approaches to help customers find meaning in big data," said Greg Brooks. "It is rewarding to develop on top of an architecture that guarantees scalability for a customer's largest big data requirements while supporting any type of data, wherever it might be. In addition, we've made significant improvements to our development process, which means Chiliad's next generation product will be a huge advancement in how customers discover knowledge in big data. "
Greg will be based in Chiliad's Amherst, MA, office and will report directly to Craig Norris.
About Chiliad
Chiliad is the leader in Big Data analysis across clouds, organizations, and other stovepipes. Chiliad Discovery/Alert™ enables organizations to securely reach, find, analyze and continuously monitor big data—whether structured or unstructured, classified or unclassified. Chiliad supports iterative discovery on any information, anywhere.
Thousands of analysts use Chiliad to find meaning among vast information collections to drive more effective actions. With Chiliad, analysis and discovery within the biggest of Big Data can actually save time and money. Because we can reach data in any locations, you can stop worrying about moving or transforming your data. Consolidation is expensive, time-consuming, and risky. At the same time, you can stop worry about the training and administrative support required by your analysts by using empowering them with a flexible query tool capable of delivering the most relevant results using natural, conversational queries.