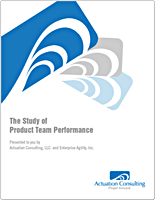 Businesses that modernize their product planning can significantly improve market performance
Santa Clara, CA (PRWEB) July 18, 2012
Accept Software, Actuation Consulting and Enterprise Agility, partnering to modernize product planning and management for global companies, today made available for free download this "first-of-its-kind" white paper The Study of Product Team Performance.
The goal of the research was to better understand the dynamics of product team performance and uncover the practices that make product teams successful. It uncovered five key factors that, when effectively implemented, enable product teams to have a 67% chance of achieving high performance, in their absence only 2%.
"It was illuminating to discover the factors that drive product team performance."
– Greg Geracie, President Actuation Consulting
"It's nice to have validated in an independent study what we at Accept Software have known to be true. Businesses that update and modernize their product planning practices can significantly improve market performance of their product lines."
– Jon Gettinger, CMO Accept Software
Not adopting Agile methods within large organizations over $500 million is surprisingly not a key factor in a team's success or it's product outcome. This and many other revelations and surprises can be found in this whitepaper.
Click here to download your free copy of this important white paper.
Actuation Consulting is a provider of product management training courses and advisory services to some of the nation's most well known organizations. Greg Geracie is available to speak on the subject of product team performance and modernizing both team's practices and processes and the solutions they utilize.
Accept Software's collaborative approach gives companies with complex product planning challenges a modern solution for aligning their products to the best market opportunities.
Download The Case for Modernizing Product Planning (and Management) , visit http://www.accept360.com or call +1.866.423.8376.
Copyright © 2003-2012 Accept Software. Accept360. All rights reserved.