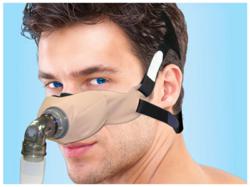 Houston, TX (PRWEB) July 18, 2012
The new SleepWeaver élan Soft Cloth Nasal CPAP Mask is Circadiance's newest soft cloth nasal mask. Circadiance specializes in soft cloth nasal CPAP masks, and they are the only company that manufactures cloth CPAP masks. Building on the success of their previous soft cloth nasal CPAP mask, the SleepWeaver élan offers improvements in style, noise reduction, comfort, convenience, and capability.
The SleepWeaver élan Soft Cloth Nasal CPAP Mask is not only unique in the sense that it is a cloth mask, but it features a very unique inflatable seal. This seal ensures an air tight, comfortable seal with no leaks, discomfort, or facial blemishes when you wake up. The SleepWeaver élan remains quiet during and after inflation. The mask, seal, and cushion are all easy to adjust and fit onto the user.
The SleepWeaver élan Soft Cloth Nasal CPAP Mask requires no forehead support, which reduces vision obstruction and allows the user to wear glasses, read, or watch TV. The SleepWeaver élan features a 90° elbow that can rotate a full 360°, ideal for hose placement and comfortable sleep positions without irritating the mask. Aiding to the flexibility and freedom of using the mask, the SleepWeaver élan has an 18 inch Feather Weight Tube, which allows further distance from the machine, more hose flexibility, and less tension on the mask.
The SleepWeaver élan Soft Cloth Nasal CPAP Mask is available from Sleep Restfully, Inc. at SleepRestfully.com or by calling toll free at 866.923.2727.
Sleep Restfully, Inc. places customer service and satisfaction as its highest priority to sleep therapy and oxygen customers. Sleep Restfully, Inc. believes that they are second to none in customer service, which is reflected in their decades of experience and their Better Business rating of "A". Sleep Restfully carries a complete line of sleep therapy supplies and equipment from the best manufacturers in the industry, such as Resmed, Philips Respironics, Fisher & Paykel, and others. In addition to CPAP machines and supplies, Sleep Restfully specializes and carries portable oxygen concentrators. Sleep Restfully offers the best support and prices on portable oxygen concentrators such as the Respironics SimplyGo, Respironics EverGo, Sequel Eclipse 3, Inogen G2, Invacare XPO2, and more. Stationary oxygen concentrators are also carried, such as the Respironics EverFlo and Invacare Perfecto.
Sleep Restfully stocks all replacement parts for CPAP machines, CPAP masks, and portable oxygen concentrators.
Contact Sleep Restfully, Inc. today toll free at (866) 923-2727 or by visiting http://www.sleeprestfully.com.