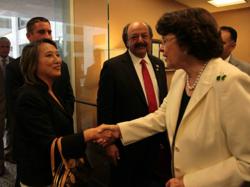 I'm pleased to join the Speaker and my Assembly colleagues to advocate for our fair share in transportation projectsand health care expansion efforts, and for more housing and education opportunities for veterans
Washington, DC (PRWEB) July 19, 2012
Assemblymember Mary Hayashi (D-Hayward) was in Washington, DC this week as a member of a California State Assembly delegation to advocate for more federal resources. The group met with several federal government agency heads and national leaders on issues such as health care, transportation, housing, and education.
"I'm pleased to join the Speaker and my Assembly colleagues to advocate for our fair share in transportation projects and health care expansion efforts, and for more housing and education opportunities for veterans," stated Assemblymember Mary Hayashi. "We are here to let the nation's leaders know that California is on the road to recovery, and we are well-positioned to make the most of federal resources that will help our working families and boost the overall economy."
Assemblymember Mary Hayashi joined Speaker John A. Pérez as a member of this bipartisan delegation, which included Assemblymembers Katcho Achadjian (R-San Luis Obispo), Tom Ammiano (D-San Francisco), Steve Bradford (D-Gardena), Paul Cook (R-Yucca Valley), Jeff Gorell (R-Camarillo), Fiona Ma (D-San Francisco and San Mateo Counties) and Henry Perea (D-Fresno)..
Assemblymember Mary Hayashi led advocacy efforts to ensure California receives an additional $196.5 million to develop the necessary infrastructure to achieve the goals of federal health care reform. The delegation also met with the Department of Veterans Affairs to discuss strategies for job training and workforce development program expansion, and for homelessness prevention and transitional housing assistance.
In addition, the group met yesterday with the Consumer Financial Protection Bureau, which is charged with regulating consumer financial products and services in compliance with federal law. The delegation discussed California's Homeowner's Bill of Rights and other efforts to address mortgage reform, which has been a major focus of the Bureau since December.
The delegation brought California's concerns to a number of other agencies including the Department of Transportation, the Department of Energy, the Department of Agriculture and the Department of Energy. They also met with White House leaders, as well as with California's Congressional leaders, including Senator Dianne Feinstein and Senator Barbara Boxer.
Assemblymember Mary Hayashi is the Chair of the Business, Professions, and Consumer Protection Committee and serves the 18th Assembly District, which includes San Leandro, Hayward, Dublin, most of Castro Valley and Pleasanton, and a portion of Oakland, as well as the unincorporated areas of Ashland, Cherryland, San Lorenzo and Sunol.
# # #