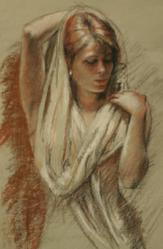 Norfolk, Virginia Beach, VA (PRWEB) July 18, 2012
Artists Network University, a division of ArtistsNetwork.com that offers personalized instruction in a student's medium of choice from the comfort of home, has received rave reviews for the first section (lessons 1-4) of Sarah Parks' "Drawing Secrets Revealed" drawing course. The series, which traditionally spans twelve lessons, is divided into three separate sessions with Artists Network University. Each 4-week mini-course has one lesson per week. The first section, with drawing lessons one through four (Getting Started, Basic Shapes, The Block-In, and Values), and the second section, with drawing lessons five through eight (Action Drawings, Relative Proportions, Facial Proportions, and Body Proportions) both begin July 17, 2012. Each section costs $149 ($135 for VIP members of Artists Network University) to register.
The course will offer not only Sarah's excellent video demonstrations and accompanying downloadable practice materials, but personalized instruction in the form of weekly one-on-one critiques and the opportunity to communicate directly with Sarah throughout the course. "Drawing Secrets Revealed" has distinguished itself from many other drawing courses with the techniques and "secrets" that Sarah has gleaned over decades of study that many artists don't know or share. While her own drawing website also offers the drawing course videos and materials, it is only with Artists Network University's course that students receive weekly critiques and open access to Sarah herself. The Artists Network University will be using Blackboard, the popular education technology solution, which provides a user-friendly interface for student to communicate with their instructors and each other.
Sarah is excited to continue to partner with Artists Network University to share with more eager, developing artists her passion for art. A subsidiary of F+W Media, ArtistsNetwork.com is a tremendous storehouse for art resources, including such well-respected art magazines as Artists Magazine, Pastel Journal, Watercolor Artists, and Southwest Art, which can be purchased at any major bookstore. ArtistsNetwork.com also offers a wide range of art books and video services, such as ArtistsNetwork.tv and Artists Network University. The "Drawing Secrets Revealed" sessions with Artists Network University will continue on a rolling schedule, so if you miss the first 4-week session, check back the following month.