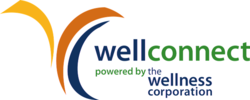 "With the ease of one-touch access to an Intake Specialist or Counselor, we know that clients will not have to stop and think...."
Shrewsbury, MA (PRWEB) July 19, 2012
The mobile app has been developed in answer to an ever-growing need for "in the moment" support by both higher education students and a wide range of employees who use their services.
The Wellness Corporation designed the mobile app to better serve clients whose needs are best met through the use of today's smartphone technology. The Wellconnect Mobile App provides employees and students direct access to Masters Level Therapists for live counseling 24 hours a day, 7 days a week. In addition, it offers self-assessments, explanation of benefits and organization-specific updates and announcements. The app is available in both Google Play for the the Android Market and the App Store for iPhones.
"With the ease of one-touch access to an Intake Specialist or Counselor, we know that clients will not have to stop and think about where they left their EAP or SAP phone number," explained Richard Ross, COO. "We have always provided our clients access to resources available any time day or night, but they now have them readily available right there on their smartphone."
A spokesperson for The Wellness Corporation went on to explain that they continually researching ways to better assist their accounts in delivering EAP and SAP services using today's technology. Features of the App include the ability for employees to contact the Wellness Work/Life program toll-free, review the list of services available, email a clinician directly through the app, and access to articles specific to their organization.
"The Wellness Corporation was founded over 25 years ago and we continue to look for new ways to provide our best of class services to all of our clients. We believe that by enhancing the ease of access to our services, we further build a higher success rate in meeting and exceeding those needs," said James Carbone, CEO and Founder of The Wellness Corporation.
The Wellness Corporation is a national provider of Organizational Assistance Services to colleges, corporations and other institutions. These services include Employee Assistance Programs, Student and Graduate Student Assistance Programs, Organizational Development Services, Professional Development Training, Wellness and Work/Life Programs. For more information, please visit http://www.wellnesscorp.com or call 1-800-828-6025 ext. 103.