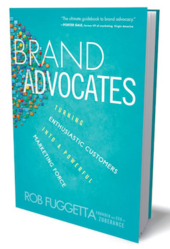 Porter Gale, the former VP Marketing at Virgin America, calls "Brand Advocates" the "ultimate guidebook to brand advocacy." Says Gale: "Advocacy is the ultimate goal for every brand. Rob Fuggetta's book is simple, clear, and filled with practical advice."
San Carlos, CA (PRWEB) July 24, 2012
Getting more customer recommendations is considered the Holy Grail in the social media age. For example, restaurants that boost their Yelp ratings by only one star can increase revenues by a whopping nine percent, according to recent research by Michael Luca from Harvard Business School. For a large restaurant chain, this can mean millions of dollars in sales.
Now, a ground-breaking new book released today shows marketers, small business owners, and even non-profits how to generate thousands of customer recommendations and boost online ratings by turning their best customers – "Brand Advocates" – into a volunteer marketing force.
The book, "Brand Advocates: Turning Enthusiastic Customers into a Powerful Marketing Force," (Wiley; ISBN: 978-1-1183-3603-8; July 2012; Hardcover & E-book) provides a step-by-step guide on how marketers, small business owners, and others can:

Discover who their Brand Advocates are and what makes these influential customers tick
Energize Advocates, generating thousands of positive recommendations on Amazon.com, TripAdvisor, Yelp, Facebook, Twitter and elsewhere without paying for or providing incentives to Advocates
Reward Brand Advocates by giving them what they crave most (here's a hint: it isn't money)
Measure results and ROI from advocacy programs
Advocacy is Hot
Driving customer advocacy is now the #1 digital priority for CMOs worldwide, a recent IBM study of global CMOs showed. And eMarketer recently stated: "Brand advocacy has become a critical part of the social media marketing mix."
"Ultimate Guidebook to Brand Advocacy"
"Brand Advocates" is the first book that focuses on these influential consumers and shows marketers exactly how to engage and energize them to drive positive Word of Mouth, referral leads, and sales.
Porter Gale, the former VP Marketing at Virgin America, calls "Brand Advocates" the "ultimate guidebook to brand advocacy." Says Gale: "Advocacy is the ultimate goal for every brand. Rob Fuggetta's book is simple, clear, and filled with practical advice."
Packed with Real-World Case Studies
"Brand Advocates" is packed with dozens of real-world case studies from multiple industries and verticals including consumer products, restaurants, health and fitness, automotive, software, consumer electronics, and more. It includes a chapter devoted to how B2B marketers can activate Advocates as well.
"Brand Advocates" shows how GMC, Ford, Rubio's Fresh Mexican Grill, Club One Fitness, Virgin America, Intuit, Microsoft, Circus Circus Hotel & Casino, and many others are leveraging their Advocates to amplify positive Word of Mouth and sales.
Who Should Read "Brand Advocates"?
"Brand Advocates" is valuable for a wide range of audiences:
B2C and B2B marketers in a variety of roles: branding, online/digital, social media, demand generation, eCommerce, corporate communications, market research, and more
Sales executives and managers
Customer experience and loyalty program professionals
Executives and managers in ad agencies, digital agencies, public relations firms, and other marketing services providers
Small business owners and entrepreneurs
Professionals in non-profit organizations, government agencies, and NGOs (non-governmental organizations) plus in political campaigns
College students in business and marketing programs
In addition, any company or organization that is measuring customer satisfaction, loyalty, or advocacy via Net Promoter® can also benefit from Brand Advocates. The book describes how to turn Promoters into a powerful marketing force.
About the Author
Rob Fuggetta is the world's foremost authority on brand advocacy. Fuggetta is the founder and CEO of Zuberance, a leading social media marketing company that powers award-winning advocacy programs for consumer and business brands. A twenty-year veteran of Silicon Valley, Fuggetta has played a leadership role in three start-ups including Genuity, a Verizon spinout. He was formerly a partner at Regis McKenna, Inc., the legendary Silicon Valley marketing and communications firm that helped put Apple on the map.
Available Now
Published by John Wiley & Sons, Inc., Brand Advocates is available now at leading book sellers including Amazon.com (print and Kindle edition); Barnes & Noble; 800 CEO Read; and BAM (Books-a-Million) In addition, the book is available directly from Wiley at http://www.wiley.com in both print and e-book editions from Wiley.com.
For more information, visit http://brandadvocatebook.com or follow Rob Fuggetta on Twitter @robfuggetta.
To request a review copy or to schedule an interview with the author, contact:
Heather Condon, Publicist – WILEY – hcondon(at)wiley(dot)com – 201-748-6017 or
Cara Fuggetta, Marketing Manager – ZUBERANCE – cara(at)zuberance(dot)com – 650-576-7475
Net Promoter® is a registered trademark of Satmetrix Systems, Inc.; Bain & Company; and Fred Reichheld.