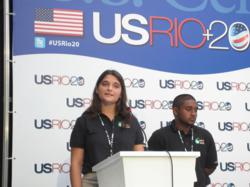 I can only hope to have the chance to return to Brazil, to make a difference like some of the individuals we met while there, Herrmann said.
Houston, TX (PRWEB) July 19, 2012
Student winners from the Conrad Foundation's 2011-2012 Spirit of Innovation Challenge (Conrad Challenge) clean energy category, recently participated in the much talked about United Nations Conference on Sustainable Development (Rio+20). The students represented the perspectives and efforts of American youth to support global sustainability.
Lucia Herrmann and Shayanth Sinnarajah, along with their coach, Claude Charron, attended the conference on behalf of team Operation Gulliver International from Gulliver Schools in Miami, Fla. While in Rio de Janeiro, the students presented at the U.S. Department of State's U.S. Center their invention, LiTReS, a portable, clean technology water filtration system intended for developing nations and its relevance to improving global health. During the trip, they also presented to students and staff at local technology high school, Instituto de Tecnologia ORT.
"We are very proud of our students. These young people are finding ways to contribute, support global sustainability and make a difference in their world. And, they are doing this by creating commercially-viable solutions," said Nancy Conrad, founder and chairman of the Conrad Foundation. "We are honored the U.S. State Department selected our students to participate in this once-in-a-lifetime opportunity and grateful for the generosity of the Motorola Mobility Foundation which made this expedition possible."
As a result of participating in Rio+20, the team discovered additional avenues for distributing their unique water filtration device to areas around the globe in need of clean, safe drinking water. The students' presentation at the U.S. Center is available for viewing at: http://www.ustream.tv/recorded/23377369.
During the conference, it was announced that Operation Gulliver International's submission to the White House's video contest, Youth Sustainability Challenge: Creating An America Built to Last won the in the Most Innovative Approach category. As result, a representative from the team will be attending a special White House event to be announced later this year.
As student ambassadors, they also participated in discussions with global leaders, researchers and business owners about the importance of science, technology, engineering and math education and how it will influence future innovations. Once they completed their work as student ambassadors, they visited some of the famous sites which contribute to Rio's cultural richness.
"I can only hope to have the chance to return to Brazil, to make a difference like some of the individuals we met while there," Herrmann said.
Photos: An album of photos is available at http://on.fb.me/Mo3yCb. To request high resolution images, contact Carrie Taylor at carrie.taylor(at)conradawards(dot)org.