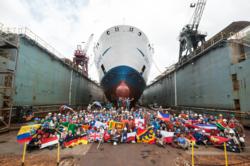 An important milestone has been reached with the ship back in the water.
Subic Bay, Philippines (PRWEB) July 18, 2012
On 11 July, OM Ships' Logos Hope left the floating dry dock in Subic Bay after 90 days of technical maintenance. Further works remain to be completed before the vessel can resume sailing, but Logos Hope's refloating is a major step towards launching into the schedule of planned port visits for the remainder of 2012.
On 13 April, the vessel entered the dry dock for annual maintenance, including servicing of lifeboats and cleaning and repainting the ship's hull. Yet surveys done in the dock revealed urgent steel work needing attention, which caused significant delays.
Additionally, much preparation for the Power Up Logos Hope project has been taking place. This vital project involves replacing two older generators and the main switchboard and installing a heat recovery system, now scheduled for early 2014.
"We are thankful to God that the re-floating took place without incident," said Elon Alva, OM Ships Marine Superintendent. "The next goal is to get all the systems that have been overhauled operational again. The final milestone will be to complete necessary surveys and ensure our personnel are trained and familiarized with the equipment so that the Passenger Ship Safety Certificate can be re-issued."
The work of the all-volunteer crew on board has been significantly boosted by over 90 "project workers". These individuals from around the world have chosen to also give their technical skills and time, some for a week or two, others for longer, to help the projects proceed. More plumbers and electricians are still urgently needed to finish the long list of outstanding tasks. For more details contact, projectworker(dot)mosbach(at)gbaships(dot)org.
"An important milestone has been reached with the ship back in the water. Our attention is now fixed on completing the work," said Logos Hope Director Lloyd Nicholas. "We see the greater purpose of these efforts and look forward to a stronger and sustainable ship-based service over the next 20 years."
While the ship has been closed to the public during this time of dry dock, over 60 teams of Logos Hope staff and crew spread out across the Philippines in five phases seeking to make a tangible difference in local communities. Working with churches, these teams have set up libraries, treated patients in free clinics, facilitated HIV and AIDS training, and led programmes for children and youth.
One Logos Hope team participated in a project to re-house 12 families who lived on the streets of Manila. Donated funds from the ship community covered relocation costs. As well as joining in the construction work, the team installed water purifiers to provide clean water for the community, all helping to build a better future for these families.
"We are deeply grateful for partners around the world whose faithful support enables these works to be completed, equipping Logos Hope for the future," said Lloyd Nicholas.
Once Logos Hope sails from the Philippines, the community on board anticipates an exciting schedule of port visits including Thailand, Cambodia and Hong Kong over the coming months.
ABOUT OM SHIPS INTERNATIONAL
OM Ships International (OMSI) exists to transform lives by bringing knowledge, help and hope to the people of the world. OMSI pioneered the concept of using ships to transport literature, humanitarian aid and people resources. The organisation's ships are well known for their work providing educational and Christian literature in ports around the world.
OMSI began in 1970 as part of the global Christian training and outreach movement, OM International. On board Logos Hope the crew and staff of 400, including professional seafarers, are all non-salaried volunteers. With over 45 different nationalities represented, the onboard community is a fascinating expression of cross-cultural living and understanding that reflect the church around the world. Crewmembers are unified by their faith and goal to share God's love as they serve in port communities. The ship remains in port for several weeks and opens to thousands of visitors every day.
Over one million visitors come on board each year to browse the hallmark of the Ship Ministry—a large floating book fair with over 5,000 titles in stock, including books for university studies, professional and career interests, history, science, economics, language learning, hobbies, novels, children's stories, biographies, dictionaries, atlases and a wide variety of Christian resources, including Bibles, study materials and books on Christian living.
The ships also bring aid and relief to needy people and places around the world. Crewmembers go ashore to provide medical aid, help construct schools, orphanages and homes, and give gifts of food, clothing and books. Teams also visit hospitals, orphanages and prisons to share God's compassion and love.
Since 1970, over 42 million people have visited the ships during more than 1,400 port visits in 151 nations. People from all walks of life, from presidents and prime ministers to street children and the homeless, have been welcomed on board.
OMSI's operational costs are met by sponsorship of onboard personnel, general donations and gifts, reductions and waivers of fees by civic and port authorities, book sales, and corporate support in each port of call.
Logos Hope is operated on behalf of OMSI by GBA Ships e.V. (formerly Good Books for All), a private, non-profit, entity registered in Germany.
For latest news, further information, port schedules and opportunities to participate visit http://www.omships.org.