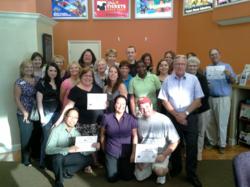 Orlando, FL (PRWEB) July 19, 2012
The Visit Orlando Visitor Center has certified all 25 of its staff members as Certified Guest Service Professionals (CGSP) after completing the Guest Service Gold training program. The facility becomes the first visitor center in the United States to earn the designation of Certified Guest Service Partner from the American Hotel & Lodging Educational Institute (EI).
Guest Service Gold, introduced by the Educational Institute in 2011, shows employees and properties how to achieve a new standard of exceptional service based on emotionally engaging with guests in memorable ways.
In March, EI presented its Guest Service Gold program and the Certified Guest Service Professional (CGSP) certification exam to 118 people from 36 Visit Orlando member companies in a class held at the UCF Rosen School of Hospitality Management. The attendees ranged from vice presidents to line level employees and represented hotels, restaurants, transportation companies, attractions, museums, and shopping malls. In June, another 65 Visit Orlando members completed the training, including 21 who participated in a Train the Trainer session to prepare themselves to teach Guest Service Gold to their organization's employees.
"With more than 55 million visitors to Orlando each year, we pride ourselves on providing the very best in terms of customer service," said Danielle Courtenay, chief marketing officer for Visit Orlando. "The Guest Service Gold training was a great opportunity for our Visitor Center team to hone their skills so that we continue to provide the level of service our visitors have come to expect."
For more information on Guest Service Gold and its related individual and organizational-level certifications, call 800-349-0299 or 407-999-8100.