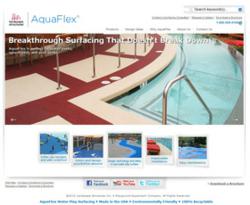 Delano, Minn. (PRWEB) July 19, 2012
Landscape Structures Inc., a Delano, Minn.-based commercial playground equipment manufacturer, is excited to introduce the AquaFlex® water play surfacing system, the breakthrough surfacing for water parks, splash pads and pool decks that doesn't break down.
AquaFlex is a one-of-a-kind water play surfacing solution with advanced technology. It includes tiny spherical aliphatic polyurethane pebbles that are chlorine and slip resistant and more UV stable than any other surfacing in the industry. The pebbles are bonded together using a clear, flexible, two-part aliphatic polyurethane binder. This is an exclusive process of the AquaFlex product that provides a significantly stronger and more durable surface.
The launch of AquaFlex water play surfacing comes following Landscape Structures' acquisition of Eatontown, N.J.- based Pebble-Flex LLC, provider of chemically bonded soft surface materials for playgrounds, water play sites and pool decks, in September 2011. The acquisition expands Landscape Structures' market for water play sites, with the most durable soft surfacing systems for wet environments with heavy chlorine exposure.
Landscape Structures offers AquaFlex in a variety of color blends, ranging from subtle to vibrant. Each AquaFlex surface is a blend of two or three colors giving endless combinations to make water play areas attractive and unique. Custom graphics—designs, shapes, logos and borders—can be incorporated into the water play surfacing design to add color and dimension. Some special designs or intricate logos can be built offsite and incorporated into the surfacing, exactly to customers' specifications.
As with any surface exposed to high traffic, regular cleaning helps to maintain a vibrant and attractive water play surface. AquaFlex can be cleaned using standard cleaning agents and up to a 2,800 psi powerwasher or high-temperature pressure washer, so maintenance is simple.
Learn more about AquaFlex by visiting aquaflexsurfaces.com.
Since 1971, Landscape Structures Inc. has been the leading commercial playground equipment manufacturer in the world. The employee-owned company is committed to making the world a better place with active children thriving in leading communities year after year, generation after generation. Landscape Structures encourages outdoor play that develops healthy kids and a sustainable world by creating innovative products that are environmentally responsible. The company's mission from day one has been to enhance children's lives by fostering and creating inspiring play experiences while honoring the environment.