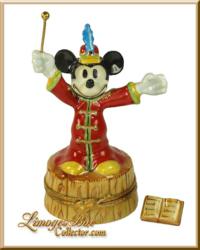 The Rare and Retired Walt Disney Limoges collection at LimogesBoxCollector.com is a treasure trove for Disneyana and Limoges collectors! The collection includes Mickey Mouse, Minnie Mouse, Donald Duck and so many more beloved Disney characters.
Los Angeles, California (PRWEB) July 18, 2012
LimogesBoxCollector.com is proud to announce its acquisition of a large collection of very rare Walt Disney Limoges boxes by Artoria Limoges. From Mickey Mouse to Winnie the Pooh, the collection includes many of the favorite Disney characters, including some rarely seen characters from Fantasia.
The Disney Collection was produced by Artoria Limoges under license by Walt Disney for a few short years and was discontinued around 1999. When first introduced, these highly collectible hand-painted porcelain pieces were an instant favorite among Limoges lovers and Disney collectors. After the collection was discontinued by Artoria, the demand for the Disney Limoges boxes has increased many fold.
Disneyana Collectibles and memorabilia have been a favorite among collectors worldwide. Mickey Mouse, Minnie Mouse, Donald Duck and the characters from other Walt Disney films and cartoons are loved and cherished by young and old alike. The rarity of the Disney Limoges box collection and the fact that each piece is an authentic French Limoges box, gives each of these exquisite Limoges collectibles added value as high-end Disney collectibles.
LimogesBoxCollector.com is proud to be the #1 source offering the largest selection of the rare and highly-sought-after Walt Disney Limoges boxes.
Limoges boxes of all styles and shapes are loved and collected by more and more collectors in the United States. The term "Limoges porcelain" is universally recognized as a high-end decorative and collectible item. In the recent years, more and more individuals have started or expanded their collection of French porcelain Limoges boxes.
French Limoges boxes are admired for their beauty and hand-painted decorative artistry. Each piece is entirely hand-made and hand-painted by master artisans in the Limousine region of France. The Limoges porcelain is hand-painted and fired numerous times at various temperatures for specific colors used. Most pieces are embellished with 24K gold highlights. Each Limoges box is individually hand-fitted with a metal hinge. The labor-intensive craftsmanship of the Limoges box makes each piece a valuable and truly desired collectible treasure.
As one of the largest direct importers of French Limoges boxes and the exclusive distributor and retailers of the Beauchamp Limoges brand, LimogesBoxCollector.com offers a vast selection of a wide variety of styles and themes of French Limoges boxes for every taste and budget. The collection includes numerous exclusive styles, not offered by any other retailers. When it comes to purchasing French Limoges boxes, collectors and gift buyers need to look no further than LimogesBoxCollector.com as they can find a great selection of Limoges boxes to suit any occasion.
About LimogesBoxCollector.com: LimogesBoxCollector.com is an authorized dealer and direct importer of all French Limoges lines and is the exclusive distributor and retailer of the luxurious line of Beauchamp Limoges boxes. The company is owned by Grand Dezign, Inc. and has served the US and international community for over a decade. As a direct importer and one of the largest Limoges dealers in the US, LimogesBoxCollector.com offers thousands of Limoges boxes in hundreds of styles for every taste and budget. Excellent customer service, same-day shipping and competitive pricing, has made LimogesBoxCollector.com a favorite source for French porcelain Limoges boxes.
For more information, please contact:
Customer Relations Specialists
LimogesBoxCollector.com
310-922-2899
http:// http://www.limogesboxcollector.com