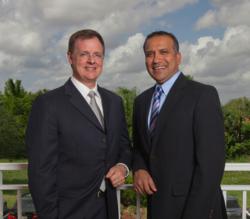 PRP treatments are commonly used by professional athletes, such as Tiger Woods, in order to recover from significant sports injuries or deal with chronic pain.
Boca Raton, FL (PRWEB) July 19, 2012
South Florida's very own Sports and Orthopedic Center (SOC) continues to expand its horizons with the addition of its newest staff member: Dr. Jace Provo. Dr. Provo is joining forces with Dr. Manish Gupta at SOC to provide unique, state-of-the-art treatments and deliver top tier orthopedic care to the local community. At the forefront of the advanced techniques offered at SOC are Diagnostic Ultrasound and Orthobiologic Therapy such as Platelet Rich Plasma (PRP) treatment.
Patients now have a cheaper, faster and more convenient alternative to MRIs with SOC's Diagnostic Ultrasound treatment. This painless in-office procedure allows our doctors to see under the skin and diagnose many injuries that previously were only visible via MRI or surgery. SOC is proud to be one of the only orthopedic practices in the area that utilizes Diagnostic Ultrasound.
Orthobiologic therapy, which includes PRP and prolotherapy, is an alternative to surgery for many patients. It uses the body's own healing mechanisms to provide a lasting solution to some of the toughest conditions and injuries. PRP treatments are commonly used by professional athletes, such as Tiger Woods, in order to recover from significant sports injuries or deal with chronic pain. For those people who do not want surgery or are poor surgical candidates due to age or illness, this in-office procedure can give significant relief and allow for increased physical activity. Patients with chronically injured tissues, such as tennis elbow or rotator cuff tears, can heal faster and better through PRP and prolotherapy treatments instead of conventional nonsurgical therapies.
Dr. Gupta is a board certified orthopedic surgeon specializing in Sports Medicine & Joint Reconstruction. He is trained in diagnostic and interventional ultrasound and Orthobiologic Therapy. He is also an Official Orthopedic Surgeon for Florida Atlantic University, the founder of the Youth Sports Doc Foundation, a Generation Nexxt commentator, and is affiliated with several local hospitals and national professional associations.
Dr. Provo specializes in the latest cutting-edge Orthobiologic Therapy treatments for orthopedic injuries and is an expert in diagnostic and interventional ultrasound. He is a nationally recognized leader in Sports Medicine and currently serves as Senior Vice President and Chief of Medical Affairs of the National Basketball Association (NBA). He has worked for the NBA since 1992. To see Dr. Provo featured in a diagnostic ultrasound video by SonoSite and the NBA, click the following link: http://www.sonosite.com/nba/
About Sports & Orthopedic Center (SOC):
Dr. Provo and Dr. Gupta frequently provide medical and orthopedic coverage for local, national and international sporting events. This includes the NBA All-Star Games in Orlando, Florida, the Major League Lacrosse All-Star Game in Boca Raton, Florida, the NBA Summer League in Las Vegas, Nevada, and the 2012 Olympic Games in London, England.
For more information about SOC, please visit SportsOrthoCenter.com.