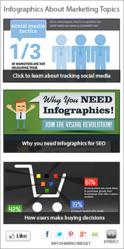 Finally - a mass-distribution solution for branded videos and infographics!
Bellevue, WA (PRWEB) July 18, 2012
ProxyLead has launched a technology solution called the InfoSharing Widget, for mass-distribution of branded marketing content in the Infographic and video formats. Publishers / blogs and content owners all win as this valuable content can now be distributed, shared and monetized web-wide.
Content marketing has been a second choice by marketers to ad networks for a long time. However, a shift began from ad network placements (because users ignore ads) to the creation of content that users will engage and share, when Facebook, Twitter, and YouTube, demonstrated that users valued content that was funny, thought-provoking or they could learn from it. And, these users shared that content to push it virally across social networks. Marketers realized that content was the way to engage their audience and started filling up their content pages, channels and Tweets. Today, new reach is available, moving the same content through InfoSharing Widgets into publisher sites across the web.
ProxyLead's InfoSharing Widget distribution is a combination of ad network infrastructure, insertion of multiple video or Infographic thumbnails simultaneously, rotation in and out based upon keywords and location, and a business model that pays the Publisher for the placement of the widget. This is what marketers have been waiting for to make sense of pushing more "ad" dollars into the "content marketing" bucket.
And of course, no network can demonstrate ROI without a good set of analytics, which ProxyLead also offers it's account holders. For only $99 a month a content owner can track how many users have engaged their content, from clicks to view the "full size" to a click on the caption that can be used as a call to action. CPM rates apply to actual distribution starting at $6CPM. But because of the high engagement rate of 10% or more, this equates to less than $0.10 per click - an extremely affordable price to earn an audience.
Share buttons are easily used and are on the widget for the benefit of the Publisher, bringing the friends of users to their website, once shared. When a user clicks on your thumbnail preview to your full version in your website, buttons exist for users to share your content. You can alternately send users to your Facebook page or YouTube channel for users engage the content you inserted, and more.
Finally, the most important feature of all, the InfoSharing widget is viral itself, with an embed button that allows a publisher or blog to grab the code and paste it into their website, signing up to get approved and paid. During this task the publisher inserts keywords and audience reach details so that only relevant content is displayed in the widget.
Whether you are a publisher who wants to embed InfoSharing widgets in your site and earn a revenue share, an agency looking for extensive Infographic or video distribution for your clients or an advertiser who wants more ROI for its ad dollars, contact us directly.
Content Marketing is a strategy that takes time, patience and a commitment to developing and distributing videos and Infographics that users can't wait to engage, and in the process, earning an audience that remembers you when they need what you offer.
About ProxyLead: ProxyLead provides content marketing services, from content creation and distribution across publisher sites in its proprietary widgets to rich analytics. The company also works with content curators, portals, and production houses / design firms. Contact us for more information - info(at)proxylead(dot)com