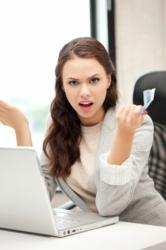 People don't like surprises on their paychecks.
says Beth Young, DirectPay Payroll
Charlotte, NC (PRWEB) July 18, 2012
"People don't like surprises on their paychecks," says Beth Young, operations manager and payroll expert at DirectPay Payroll Services. "Employees need to know about potential changes in their take-home pay before hand, so that there are no surprises on pay day."
Both healthcare reform and impending reversal of the Bush Tax Cuts will impact the bottom line for many workers. Payroll and HR experts are advising business owners to keep employees informed about the potential impact to paychecks from benefits costs and increased tax withholdings.
According to the New York Times, expiration of the tax cuts and additional proposed tax cuts from President Obama's stimulus bill would cause the tax bill for "a typical middle-class household to rise by about $1,750." The healthcare ruling requires companies with 50 or more full-time workers to start providing health insurance for all workers by 2014. All of these changes can impact take-home pay.
"The last thing you want is an employee who feels a paycheck is incorrect," says Young. "You can easily avoid a problem by keeping your employees informed before they see changes."
Businesses are keenly sensitive to government policy and the potential impact those changes can have on profits. Healthcare reform and the impending changes in tax cuts will impact payroll and other business decisions over the coming months. In addition to changes in income for individual workers the uncertainty created by the potential changes could cause businesses to take a downturn and they may become more likely to postpone hiring new employees or beginning new projects.
"The changes from healthcare and tax policy are happening quickly and there are potential changes everyday," says Young. "A big part of what we do is stay current and help our clients pass that information on to their staffs."
Companies who still do not outsource payroll and HR services must stay current on government policy and regulations or potentially face fines for failure to provide benefits. New regulations requiring businesses to provide healthcare benefits impose penalties and fines as high as $40,000 per employee for companies who fail to comply.
"It's our job to keep our clients in compliance," says Young. "Staying abreast of payroll and HR policy is a full-time job." According to online source, Business Library, as much as 58% of businesses now outsource payroll. Managing payroll in-house is not only expensive, it can create unnecessary liability.
DirectPay Payroll provides payroll, tax and HR services in Charlotte, NC. If you need more information about outsourcing payroll services, managing small business, tax filing or HR services visit http://www.directpaypayroll.com or call 704.921-2730.