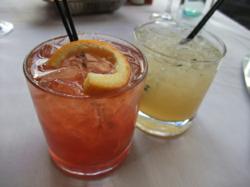 San Francisco, CA (PRWEB) July 17, 2012
Manhattans are the favorite libation of San Francisco Chef Dan Scherotter. So with an eye towards spreading the gospel about the pleasures of this classic drink, he and Martino Di Grande, co-owners of Palio D'Asti ( http://www.paliodasti.com) , a popular Italian restaurant in San Francisco's Financial District, have concocted their own "Manhattan Project" - a mix and match cocktail menu that allows customers to pick from 4 different categories of ingredients to create their own signature cocktail.
Palio has long been a favorite of downtown's movers and shakers for their Michelin rated "comfortable" service and authentic, regional Italian cuisine that changes seasonally. Palio is also known as having one of the best happy hours in San Fransico where you can enjoy one of several varieties of hand crafted artisan pizza for only $1 with the purchase of any two "adult" beverages from 4-7pm on weekdays. That includes wine, Peroni beer on tap, well drinks for $7, seasonal specialty cocktails starting at $8, and the new Manhattan Project creations; offering your choice of Tempelton Rye or Woodford Reserve Bourbon, six Vermouths, three bitters and multiple garnishes for $10.
Chef Dan is a wealth of knowledge about the history of Italian food so when he came up with the idea for the $1 Pizza Happy Hour, he headed for Naples to learn how to craft a pie using authentic techniques and flavor combinations. Prepared in a wood-fired oven, his Happy Hour offerings are among the best San Francisco pizza including standard and seasonal combinations such as Pizza Capricciosa (Artichokes, Prosciutto Cotto, Olives, Capers, Mozzarella, Tomato Sauce) , Pizza Siciliana (Berkshire Pork Fennel Sausage, Fire Roasted Peppers, Tomato Sauce), Pizza Margherita alla Regina di Savoia (Tomato Sauce, Mozzarella, Oregano and Basil), and options without sauce such as Pizza Rucola ( Fresh Asiago and White Corn topped with 20 year old Balsamic and fresh arugula) and Pizza Mare e Monte (Spicy Red Pizza with Baby Octopus, Zucchini, Castelvetrano Olives, Capers and Caramelized Onions. It's no wonder that after work pizza get togethers are such a popular Financial District activity; with reservations accepted for groups of 10 or more.
"Whether it's our Happy Hour pizza or dishes at lunch and dinner, at Palio we always utilize local, organic and sustainable ingredients, as well as a handful of unique Italian products that can't be replicated," explained Scherotter. "And we've recently added an assortment of unpasteurized Italian Cheeses to our dessert menu as a great way to help guests finish off a bottle of wine," chimed in DiGrande who is of Italian heritage and responsible for Palio's Wine Spectator award winning list.
About Palio D'Asti
Voted 2012 Open Table Diners Choice for Best Italian Restaurant San Francisco
Celebrating 21 years of authentic, seasonably changing cuisine Palio D'Asti features classic and contemporary Italian regional cuisine combined with exceptional service at its ala carte lunch and prix fixe dinner offering any Two Courses for $32/person; Three Courses for $39/person and Four Courses for $44/person. With several private rooms available for group dining, Palio D'Asti is also the ideal San Francisco party venue and corporate meeting location for lunch, dinner and evening receptions. Breakfast and all day meetings can also be accommodated by calling 415.64PARTY or emailing partyatpalio(at)yahoo(dot)com.
Open Monday-Friday for lunch, Monday-Saturday for dinner, Palio D'Asti is located at 640 Sacramento Street between Kearny and Montgomery in San Francisco. For reservations or more information call (415) 658-9295. or to make reservations online visit http://www.paliodasti.com
PRESS INQUIRIES: Tom Walton, Fortune Public Relations
Office: (510) 548-1097 tom(at)fortunepublicrelations(dot)com