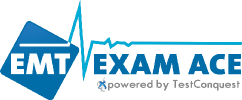 With the discount, we not only aim for the best quality, but also the most economical program.
Boston, MA (PRWEB) July 19, 2012
Boston-based EMT Exam Ace has good news for civil servants across the country: a $10 EMT discount code is redeemable toward any exam preparation program offered by the company, including EMT-Basic, EMT-Intermediate, and EMT-Paramedic.
"We decided to extend this discount program to all civil servants," notes Ted Chan, founder of TestConquest, the parent company of EMT Exam Ace, "to honor their government service on the local, state, or federal levels."
Formerly, this $10 EMT coupon was offered only for military personnel. "The coupon was received avidly upon announcement," adds Ted, "so it became necessary for us to extend it to civil servants."
EMT Exam Ace aims to offer the top EMT exam preparation program. Its premium EMT exam prep products all include a 1000+ question bank, study guides, and comprehensive review material to allow a 100% pass guarantee. To apply the EMT promotion code, users need to enter the special civil servant promotion code found on the website upon checkout.
"With the discount, we not only aim for the best quality," says Samantha Tanzer, EMT Exam Ace product manager, "but also the most economical program in the market." The combination of extensive EMT study resources and affordable price has appealed to civil servants who aspire to attain EMT certification.
EMT Exam Ace has established the special $10 civil servant discount code as a year-round offer to civil servants. TestConquest reserves the right to request confirmation of credentials for suspicious activity.
About EMT Exam Ace and TestConquest
EMT Exam Ace is an upcoming website that provides comprehensive online review courses at the EMT Basic, Intermediate, and Paramedic levels. Boston-based TestConquest, its parent company, is an educational enterprise providing professional certification preparation solutions. Visit http://www.emtexamace.com to learn more about how you can ace EMT certification.