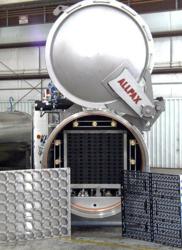 Covington, LA (PRWEB) July 18, 2012
In a seven minute audio interview, Greg Jacob, vice president and general manager of Allpax, powered by Pro Mach, describes how microwaveable bowls and pouches lend themselves to faster and more even heat transfer when agitated in a retort with a gentle horizontal reciprocating motion.
"This new gentle motion technology for microwaveable food containers is a revolution for consumers, brand owners, and contract packagers," said Jacob. "Motion can be added to existing static retorts without a penalty in batch capacity."
Jacob said that not only does cycle time decrease by 30 to 50 percent for each retort batch, depending on product and speed of agitation, but also the taste of the food improves. For example, burn on or scorching of dairy products is eliminated and hydration of high starch foods such as beans is accelerated uniformly.
In the gentle motion process, every horizontally oriented container experiences the same agitation profile. This produces greater uniformity in heat transfer within the package and therefore greater consistency in taste among packages. Jacob explains how static retorts can be retrofitted for reciprocating motion without any loss of batch capacity and with the same operator interface and workflow.
For an excellent overview of the throughput and quality opportunities delivered by the new reciprocating motion technology, take seven minutes and listen to this informative audio interview. Listen to the full Gentle Motion Podcast with Greg Jacob (MP3 Format, 7 minutes).
For information on a host of Allpax retort solutions call 1-888-893-9277 and visit http://www.Allpax.com.
About Allpax Products
Allpax Products, a market leader in retort technology and retort room automation, designs, manufactures, and delivers turnkey sterilization solutions for the food, beverage, pet food, and pharmaceutical industries. The company is recognized for helping customers become more successful by decreasing time to market with laboratory retort equipment, lowering overall labor costs through automation, and increasing the overall throughput of the sterilization process. http://www.Allpax.com
About Pro Mach
Pro Mach, Cincinnati, Ohio, is a leading provider of integrated packaging products and solutions for food, beverage, household goods, pharmaceutical, and other diverse consumer and industrial companies. Through three business units and related divisions, Pro Mach provides equipment, training, installation, and parts in primary packaging, end-of-line packaging, and identification and tracking. http://www.ProMachInc.com