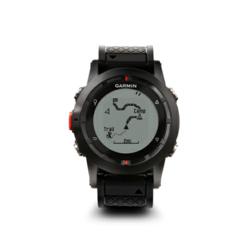 You can advance program your route, assuming you know map coordinates, and then let the watch navigate you - pretty sweet option really
Bozeman, MT (PRWEB) July 19, 2012
The new Garmin fenix GPS watch offers backpackers and back country enthusiasts a wrist top navigation option with many of the best attributes of a handheld GPS and it leaves them with their hands free according to the Heart Rate Watch Company.
"The new Garmin fenix is going to take the outdoor adventure world by storm when it is released in late August", predicts Rusty Squire, President of the Heart Rate Watch Company. He adds, "You can advance program your route, assuming you know map coordinates, and then let the watch navigate you - pretty sweet option really".
If there is one limitation with fenix it would be extended backpacking trips of 4, or more, days duration because the battery only lasts about 50 hours on 1 minute recording intervals. "The
other option is to get a USB charging stick or two and bring it or get the Garmin External battery kit with a solar charger", says Squire. He adds, "For all-day hikes or, two to three day backpack adventures, this watch is very strategic kit, but beyond 50 hours you need to figure out how to re-charge it."
For back country skiing and downhill skiing the Garmin fenix can map every run and upload those maps to Garmin Connect complete with vertical feet, distance, heart rate and more data.
"Having detailed maps, marking cool camping sites or geographic features, like waterfalls, is part of what makes this all such an interesting technology because it allows you to share your knowledge with friends," says Squire. He adds, "It also gives you the precise ability to navigate to these features again in the future by creating way points."
By loading trip data and way points a person could literally plan their whole trip out by watch, including side routes, features and detours. "It cuts down on the time it takes to find things and it eliminates the error, something I've fallen victim too on many river trips down the Grand Canyon and here in Montana," says Squire.
The new Garmin fenix will be available in late August and advanced orders are highly encouraged due to the high popularity. It's only competitor, the Suunto Ambit, provides no onscreen maps.