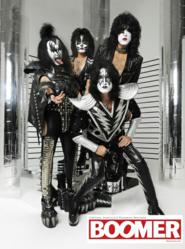 "We need to support the men and women who've protected our country" - Lori Ross, Publisher of BOOMER Magazine
Richmond, VA (PRWEB) July 18, 2012
BOOMER Magazine, where fun and entertainment has grown up, is partnering with legendary, iconic rock band KISS to put on a free, private concert honoring the U.S. military at Jiffy Lube Live in Bristow, Virginia on July 19th, 2012. Free tickets to the event have been distributed to 1,600 service men and women through the U.S. Chamber of Commerce, Virginia Wounded Warriors, Hunter Holmes McGuire VAMC, and other military organizations. All tickets have been distributed and the event is sold-out.
Coverage of the event and an exclusive feature on KISS will be published in the August issue of BOOMER Magazine. In addition to interviews with band members Gene Simmons, Paul Stanley and Tommy Thayer, BOOMER will feature backstage video footage and pictures of the event.
KISS made headlines in June when they teamed up with Hiring Our Heroes, an initiative from NBC News and the U.S. Chamber of Commerce that aims to get veterans back into the workforce. KISS has hired a military veteran to be a roadie for their upcoming national tour. Simmons said that hiring veterans "is the most important thing that we can do."
It is estimated that over 70,000 US Veterans will be unemployed in the Virginia and Tidewater areas by the end of 2012, according to statistics from the US Department of Veterans Affairs. "We need to support the men and women who've protected our country," states Lori Ross of BOOMER Magazine. "(Hiring Our Heroes) is a way to do that."
To support Hiring Our Heroes, BOOMER Magazine held an online contest and hired a veteran to conduct an interview with KISS. Entries came from all over the country. "Getting to know the candidates and learning about their journeys has really opened my eyes" Ross elaborates.
Long-time KISS fan and US Army serviceman, Robert Crespo who served in Iraq's combat zone, was chosen. "KISS was the motivation to keep going" Crespo explains. Crespo's interview of his idols, KISS, will be in the August issue of BOOMER Magazine. Video footage will be available at http://www.TheBoomerMagazine.com the morning of July 20th.
The August 2012 BOOMER Magazine with KISS on the cover will be available the first week of August on the magazine's website. To order a copy of BOOMER Magazine, visit http://www.theboomermagazine.com/subscribe.
BOOMER is published by Ross Publishing, a Richmond, VA.-based company which also publishes Seniors Guide Magazine and website http://www.SeniorsGuideOnline.com. Ross Publishing began in 1991 publishing helpful, free publications and websites and launched Ross Media Services in 2012 providing professional video and digital services.