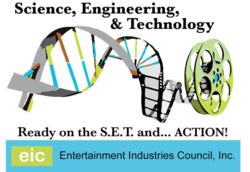 Inspiring girls and boys to excel in science and engineering is critical to creating solutions to the greatest challenges facing our society...The entertainment industry has the talent, creativity, and reach to help achieve this goal.
--Tom Kalil
Los Angeles, CA (PRWEB) July 17, 2012
The Entertainment Industries Council, Inc. (EIC), through its Entertainment & Media Communications Institute, partnered with a dozen of the preeminent entertainment industry organizations and the White House Office of Science Technology Policy for a day-long series of events dedicated to increasing interest in careers in and understanding of the importance of science, engineering and technology. Partner organizations were The Caucus for Producers, Writers and Directors, The Digital Entertainment Group (DEG), Film Independent, Independent Film & Television Alliance (IFTA), International 3D Society, Motion Picture Association of America (MPAA), National Association of Broadcasters (NAB), National Cable & Telecommunications Association (NCTA), Producers Guild of America (PGA), SAG-AFTRA, Visual Effects Society (VES), and Women In Film (WIF).
These events were produced in collaboration with The Boeing Company and are a part of Ready on the S.E.T. and…Action!, EIC's continuing initiative to mobilize the entertainment industry and encourage the creative community and media to portray the science, engineering and technology fields in ways that are exciting and less stereotypical. Tom Kalil, Deputy Director for Policy at the White House Office of Science and Technology Policy, served as the keynote for both events.
"Inspiring girls and boys to excel in science and engineering is critical to creating solutions to the greatest challenges facing our society. That's why President Obama has made it a priority to engage more students in science, technology, engineering, and math education," said Kalil. "The entertainment industry has the talent, creativity, and reach to help achieve this goal. I commend industry groups that are taking steps to respond to the President's call to action and I challenge others to do the same."
"The entertainment industry is in a strategic position to enhance our workforce development and shift public attitudes in a way that creates a behavioral movement to support education and all businesses and industries utilizing science, engineering and technology," said Brian Dyak, President and CEO of EIC. "We are working to define how many engineers or technologists we have engaged in our industry; we cannot fathom how many we will need in the future to keep our content fresh and delivery systems on the cutting edge. It is imperative that we utilize our great influence to raise the public consciousness and get more young people as invested in the future of science, engineering and technology as possible. It's not only for the sake of powerful entertainment and epic special effects, but also for the future of our economy and national preparedness."
The forum encouraged fictional and non fiction TV programming creators, movie makers and others in entertainment to make this a priority in storytelling that supports education, workplace training, and inspires our nation's next generation of scientists, engineers, technologists to enhance U.S. competitiveness and make the world a better place.
"Changing negative depictions of scientists and engineers and promoting more positive and accurate views of these professions is one way to get students to think of high-tech careers as cool and fulfilling," said Rick Stephens, senior vice president of Human Resources and Administration for The Boeing Company. "The entertainment industry has enormous power to influence people's attitudes and through accurate storytelling and debunking stereotypes, more young people will become interested in technology-related fields at an earlier age and see these careers as alluring."
Additional speakers who presented unique and intriguing anecdotes of science, engineering and technology to writers, producers, directors, actors and creative executives during the morning creators briefing included Dr. Jimmie Oxley, an expert on chemistry, explosives and pyrotechnics; Bill Scott, a flight test engineer and avionics expert; Nagin Cox, Mars Science Laboratory Flight Team, NASA Jet Propulsion Lab; and Mark Safarik, a former FBI forensic scientist and behavioral psychologist. EIC will make additional experts on virtually any and all areas of science, engineering and technology available free to members of the entertainment industry to inform and advise on their productions.
During the luncheon that followed, over a hundred delegates from the 12 partner organizations saw presentations from two panels. The first panel focused on women and girls in science, engineering and technology featuring 3D Producer Charlotte Huggins, Universal Creative producer Linda Danet, and Vice President of Post-Production Technology for Walt Disney Studios Digital Production Technology Annie Chang, who shared their inspiring personal stories and recommendations for inspiring the next generation. This panel was followed by a second one featuring Roberta Reardon, Co-President of SAG-AFTRA; Entertainment Executive/Producer Herman Rush; and 15-year old Molly Cinnamon, National Center for Women in Technology student honoree and teenage creator of animation and android app techniques. This panel discussed the status of workforce development, industry needs and how entertainers and creators can inspire more young people like Molly to dream big and achieve great heights in science, engineering and technology. Prior to the panels, participants saw a special taped Call to Action message from NCIS star Pauley Perrette. Chris Roe from the California STEM Learning Network set forth the basic problem the nation and the education system are facing.
The events will serve as the beginning of an industry-wide partnership to meet this challenge under the aegis of the Ready on the S.E.T. and… Action! initiative. In November, EIC will hold the 2nd Annual S.E.T. Awards to honor productions that portray science, engineering and technology and those in those fields in positive and non-stereotypical ways. The call for submissions to the S.E.T. Awards is open through August 31st.
For more information, go to http://www.eiconline.org/ReadyOnTheSet.
About Entertainment Industries Council
EIC, a non-profit organization, was founded in 1983 by leaders of the entertainment industry to bring the power and influence of the industry to bear on communication about health and social issues. The organization is considered to be the chief pioneer of entertainment outreach and one of the premiere success stories in the field of entertainment education. EIC provides information resources for entertainment creators through innovative and time-proven services and methods of "encouraging the art of making a difference" from within the entertainment industry. EIC produces the simulcast national television special PRISM Awards Showcase which addresses accurate portrayals of prevention, treatment and recovery from drug, alcohol and tobacco use, and mental health concerns. The organization also produces the S.E.T Awards, honoring positive and non-stereotypical portrayals of science, engineering and technology.
EIC also addresses issues such as diabetes, ADHD, Post Traumatic Stress Disorder, foster care, women's health, firearm safety and injury prevention, sun safety and skin cancer prevention, human trafficking, terrorism and homeland security, eating disorders and obesity, seat belt use and traffic safety, and HIV/AIDS prevention. The organization has also launched an initiative to increase the public profile and interest in science, engineering and technology. EIC's web site is http://www.eiconline.org. The PRISM Awards web site is http://www.prismawards.com.
# # #