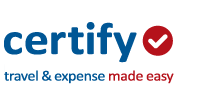 users can easily flip between languages and change their desired language preference.
Portland, ME (PRWEB) July 23, 2012
Certify, a leading online travel and expense management company, today announced the general availability of 64 language selections for Certify Enterprise customers. This major product expansion demonstrates Certify's continued position as a global leader in the travel and expense management space.
The new multiple language capabilities include both machine language translation and human translator approved localizations. This approach brings the best of both worlds, allowing for rapid deployment via automatic translation coupled with company based translation enhancement for specific dialectic language requirements. Combined with existing global functionality including automatic currency conversion, culture-aware data formatting, global mileage reimbursement rates and full Unicode support, Certify Enterprise with multiple languages is positioned to rapidly gain market share among multi-national corporations of all sizes.
"This is an exciting new development for Certify and will immediately benefit several of our large US based multi-national clients," said Robert Neveu, President of Certify. "As we continue the expansion of Certify, we are extremely pleased to meet the growing demand for multiple language capabilities for both our domestic and international client base. While developing this feature, we worked closely with our largest clients which includes several Fortune 500 firms with multinational operations. Our clients will benefit by allowing their employees to interact with Certify in their native languages, while maintaining standard travel and expense policies across linguistic barriers."
Companies are able to designate the specific languages available to their end users, and also make translation modifications based on localized needs. As part of the new user account setup process, employees and managers can simply select their desired language and the entire Certify interface is instantly translated. While using Certify, users can easily flip between languages and change their desired language preference. A new Translator permission can be granted to company language specialists, enabling them to view and modify translations with real-time updating.
Certify's new language offering is the first of its kind and by far the most expansive in the industry. For more information regarding Certify's products or to request a demo of the product visit http://www.certify.com/
About Certify
Certify is the leading online travel and expense management solution for companies of all sizes. Organizations worldwide book travel and complete expense reports quickly, easily, and cost effectively using our mobile applications and web based technology.
For more information about Certify please call 207.773.6100 or visit http://www.Certify.com.