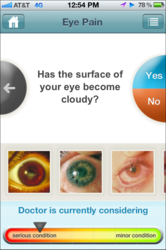 Connecting Virtual Doctor users with access to appropriate providers is a win-win for health plans and consumers.
Orlando, Florida (PRWEB) July 18, 2012
Virtual Doctor is representative of a small, but specialized group of intelligent apps, called decision-support applications. Virtual Doctor performs a critical decision-making process, called symptom triage. "Performing triage is not the same as making a diagnosis," says Schueler. "The goals of triage are to determine a person's risk for serious illness, to assess how sick he or she is, and to decide when to seek care. In contrast, making a diagnosis requires a doctor to find the cause in order to select the right treatment. Most triage is performed outside the health care system, where consumers must decide when and where to seek care by themselves, with no physician input."
Innovations in health care services have caused an explosion in the number of locations for delivering care, ranging from the traditional emergency room to remote care in the home. "We have no choice but to rely on consumers to decide where to receive care when they are sick or injured," says Schueler. "In practice, treating patients at the wrong time, in the wrong place, increases the cost of care and results in poor outcomes."
Virtual Doctor conducts a medical interview, like a real doctor. The goal is to determine if a person needs to see a doctor and, if so, how soon. Virtual Doctor also guides the user to the most appropriate location, where care can be rendered safely -- at the lowest cost. Virtual Doctor sorts users to the emergency room, urgent care center, doctor's office, dentist, and nurse retail clinic. It also detects cases that can be managed electronically, via the Internet or telephone. For those who do not need to see a doctor, the app provides them with information on how to care for themselves at home.
DSHI Systems created the triage decision-support engine that powers Virtual Doctor. The same engine has been used in medical call centers for the past 12 years, where it has been scrutinized by thousands of physicians. DSHI Systems offers hospitals and health plans a customized, branded version of Virtual Doctor that can be integrated with their services. "Once a user receives a triage recommendation, he or she frequently needs to connect with a provider," says Schueler. "Connecting Virtual Doctor users with access to appropriate providers is a win-win for health plans and consumers."
DSHI Systems (dshisystems.com) is the leading innovator in triage decision support for consumers and health professionals. Over the past 12 years, DSHI solutions have been licensed by the U.S. government and private sector to provide health services to more than 50 million people in the United States, Europe, and Latin America.