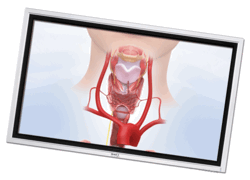 "With the use of this new video content, patients can be educated and visually guided through this important decision process."
-Dr. Daniel B. Kuriloff, Lenox Hill Hospital
Baltimore, MD (PRWEB) July 18, 2012
Eyemaginations, Inc. is pleased to announce the launch of a new patient education animation within its LUMA ENT platform addressing thyroid nodules. Created in collaboration with Dr. Daniel B. Kuriloff, Director of the New York Head & Neck Institute's Center for Thyroid and Parathyroid Surgery at Lenox Hill Hospital, the new content was included in the company's latest software release, LUMA v.1.9.5, launched earlier this month.
"The American Cancer Society estimates that there will be about 56,460 new cases of thyroid cancer in the U.S. in 2012, twice the level in the early '90s," said Jeff Peres, president and CEO of Eyemaginations. "Although the majority of thyroid nodules are not life-threatening, providing education and increasing awareness on how to identify them early on becomes vital in treating those that do become cancerous. We are extremely pleased to have Dr. Kuriloff, widely known for his diagnostic accuracy prior to surgical planning, collaborate with us in creating the most effective visuals for explaining such an important yet poorly understood element of health."
Daniel B. Kuriloff, M.D., F.A.C.S. is a board certified Head and Neck Surgeon who has specific expertise in thyroid & parathyroid surgery, cancer surgery, and reconstructive techniques. "With accurate and timely diagnosis, most thyroid nodules can be effectively treated," commented Dr. Kuriloff. "However, there are many controversies in the diagnosis and management of thyroid cancer and we are now recommending a more individually tailored approach to treatment, based on each patient's risk profile. With the use of this new video content, patients can be educated and visually guided through this important decision process."
Eyemaginations indicates that the new content is available in its latest software release for LUMA ENT. Interested practices can receive a demonstration at the 2012 AHNS-International Conference on Head and Neck Cancer in Toronto, Ontario between July 21 and 24, at booth #1312.
Information about LUMA v1.9.5 can be found by calling Eyemaginations at 877.321.5481, emailing info(at)eyemaginations(dot)com or by visiting http://www.eyemaginations.com.
About Eyemaginations
Eyemaginations, Inc. is a healthcare media company focused on solutions that support professionals, patients and corporations in communicating and understanding complex topics. The company's in-depth experience with animation, design and software has enabled Eyemaginations to create integrated systems that provide clear and concise education solutions. Eyemaginations has a portfolio of products that are focused on eyecare, ENT, audiology and facial aesthetics. Eyemaginations may be reached by phone at 1-877-321-5481, email at info(at)eyemaginations(dot)com or online at http://www.eyemaginations.com.