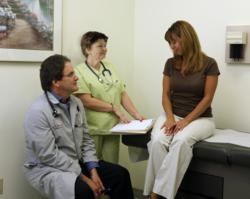 "The program has been carefully crafted to track each patient so that all patients, regardless of their smoking status and test results, receive individualized follow-up care"
Munster, IN (PRWEB) July 19, 2012
As a result of new medical research conducted by the National Cancer Institute and published in the New England Journal of Medicine, Medical Specialists recently launched a lung cancer screening program utilizing a new screening process.
In the National Cancer Institute's National Lung Screening Trial (NLST), they found a 20 percent reduction in lung cancer deaths among those screened yearly with CT lung scans compared to chest X-rays. Based on this data, the Medical Specialists Department of Pulmonary Medicine developed a lung cancer screening program that utilizes CT scans to find lung cancer at early stages when tumors are small and more easily treated.
"The program has been carefully crafted to track each patient so that all patients, regardless of their smoking status and test results, receive individualized follow-up care," said Don Dumont, MD, Pulmonary Department Section Chief and Lung Cancer Screening Director at Medical Specialists. "This program has the potential to save lives."
The Lung Cancer Screening program at Medical Specialists provides a free initial CT lung cancer screening test for patients who meet the following criteria:

Between the ages of 50 and 64
Greater than 30 pack year smoking history
Current Medical Specialists patient
Agree to follow up evaluation as indicated
Not covered by Medicare or Medicaid
No previous lung CT within 12 months or negative results on previous lung CT
No respiratory illness or pneumonia 12 weeks prior to lung cancer screening
In addition to the free lung cancer screening test, patients will receive a free follow-up appointment with Medical Specialists' Lung Cancer Screening Coordinator Linda Gatto, APN. During the follow-up appointment, patients will discuss the results of their lung cancer screening with the program coordinator. Current smokers will be advised to enter a smoking cessation program and those with abnormal test results will be recommended to have a pulmonary function test and referred to a Medical Specialists board certified pulmonary medicine specialist. All participants of the program will also be recommended to receive follow-up lung CT scans and follow-up appointments per the program's protocol.
"We will continue to promote smoking cessation as the key to lung cancer prevention," said Dr. Dumont. "But now, we have an effective screening program in place to detect lung cancer in its earliest stage, increasing our patients' chance of survival."
For more information about Medical Specialists' Lung Cancer Screening Program, please visit http://www.medspecindiana.com or call (219) 934-2415.
Medical Specialists is a unique healthcare organization comprised of highly trained and compassionate primary care and specialty care physicians and surgeons. Providing the highest quality university-level healthcare to residents of Northwest Indiana since 1978, Medical Specialists brings university level medical care to the community setting. No matter where you live in Northwest Indiana, there's a Medical Specialist provider nearby.